Tracing the Origins of Marijuana
Plant DNA
David Gangitano uses forensic botany to help aid criminal investigations.
Dr. Chi-Chung Jorn Yu is leading the study to trace the origins of marijuana samples.
The Department of Forensic Science is testing a cost-effective analytical tool that can trace the geographic origins of marijuana samples for criminal investigations.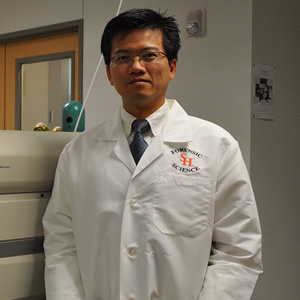 "Marijuana is one of the most common controlled substances not only in the United States, but also worldwide," Dr. Chi-Chung (Jorn) Yu, principal investigator of the study. "It is of forensic interests to trace the origin of marijuana for the purpose of criminal investigations."
The department is developing a forensic chemistry technique to capture gases from marijuana samples, which could be analyzed using a common instrument, gas chromatography/mass spectrometry (GC/MS), found in most crime labs. Right now, the only agency capable of creating geographical profiles of marijuana is the Drug Enforcement Administration using an expensive analytical instrument and process.
The results could aid law enforcement in identifying the regions where marijuana plants are grown and creating a database to link cases with the same profiles, Dr. Yu said.
Sam Houston State University will collaborate with the Southwest Regional Science Center within the Department of Homeland Security to obtain test samples. The project is being funded through a grant from the National Institute of Justice.
The study will use chemical forensics to collect and analyze chemical signatures in marijuana samples, which can be classified and traced back to the source. The research will use heated headspace solid phase microextraction, a process that captures chemicals from heated marijuana samples, and GC/MS to analyze the results. This can lead to a database, which can be shared by law enforcement agencies in drug cases.
Dr. Yu is involved in several areas of criminalistics in the Department of Forensic Science. In 2014, he was certified as a Diplomate of the American Board of Criminalistics (ABC) and promoted to Fellow in the Criminalistics Section of the American Academy of Forensic Sciences.
Before joining SHSU, Dr. Yu was a forensic scientist at Forensic Science Center, Taipei, Taiwan. As a practitioner in crime scene investigation, he had numerous opportunities to resolve major crimes within the Taipei municipal area. During his graduate training, he completed a study using different algorithms to search infrared spectra for automobile coatings by the use of Fourier Transform Infrared Microscopy, which is an infrared microscope.

Wednesday, November 12, 2014
Email This
BlogThis!
Share to Twitter
Share to Facebook
Share to Pinterest