Three new Ph.D. graduates, 28 master's students and dozens of undergraduates earned degrees in the criminal justice field during the December 2014 Commencement.
The three Ph.D. graduates include Dr. Kimberly Ann Chism, who will teach at the University of South Mississippi; Dr. Carl McKay Williams, who was recently appointed Police Commissioner in Jamaica; and Dr. Soraya K. Kawucha. They were joined by 21 graduates of the Master of Science in Leadership and Management online program, two from the Master of Science in Security Studies program and two from the Master of Science in Criminal Justice program.
Second Lt. Travis Watson(l) with fellow ROTC commissioned officers.Travis Watson, who earned his master's in Security Studies, also was commissioned as a Second Lieutenant in the U.S. Army during the Bearkat Battalion Commissioning ceremony. Watson was a member of the ROTC at SHSU.
Dr. Chism's dissertation was "A Stress Test: Examining Agnew General Theory of Crime and Delinquency."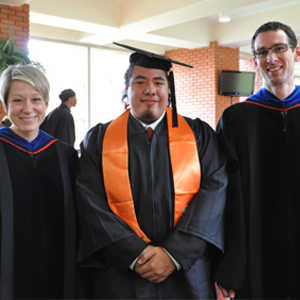 Her committee was chaired by Dr. Scott Menard and included Drs. Jurg Gerber, Matt Nobles, and Kelly Knight.
Dr. Williams' dissertation was "In Harm's Way: Influential Factors in the Violent Victimization of Police Officers in Jamaica." His committee included Dr. Roth as chairman, with members. Drs. William King and Victoria Titterington.
Dr. Soraya Kawucha (r) with Dr. Gaylene ArmstrongDr. Kawucha's dissertation was on "Sheriffs – the Other Police." Her committee chaired was Dr. Will Oliver, with members Drs. Mitchel Roth and Phillip Lyons.
Commencement ceremonies were held Dec. 13 in the Johnson Coliseum.