Fri, Feb 6, 2015
9:30 - 11:00 A.M.
Hazel B. Kerper Courtroom

Dr. James Forest
Dr. James Forest, an expert on terrorism and national security, will present "Apocalypse Not: The Limited Threat of Terrorism with Weapons of Mass Destruction" at the first Beto Chair Lecture of the Spring.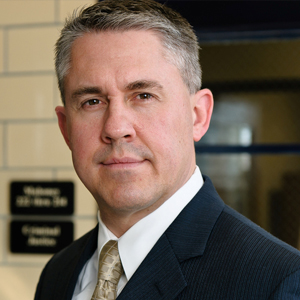 Dr. Forest, a Professor and Director of the Security Studies Program at the University of Massachusetts Lowell, serves as Director of the Center of Terrorism and Security Studies and is a Senior Fellow with the Joint Operations University, where he conducts research on emerging terrorist threats, insurgencies, transnational criminal networks, and U.S. Special Forces training.

Dr. Forest in Nigeria.
Before joining the University, Dr. Forest was the Director of Terrorism Studies at the United States Military Academy, where he taught courses on international relations, terrorism, counterterrorism, information warfare, comparative politics and sub-Saharan Africa. He also directed research initiatives and education programs for the Combating Terrorism Center at West Point, covering topics in terrorist recruitment, training, and organizational knowledge transfer. He received several Army civilian service awards during his tenure.

Dr. Forest in Uganda.
Dr. Forest also was selected by the Center for American Progress and Foreign Policy as one of "America's most esteemed terrorism and national security experts" and participated in its annual Terrorism Index studies from 2006 to 2011. He also testified before Congressional hearings, served as an expert witness for terrorism-related court cases and was interviewed by many television, newspaper and radio journalists in the U.S. and other countries.
Dr. Forest is the author of 19 books and dozens of articles in such journals as
Terrorism and Political Violence, Crime and Delinquency, Perspectives on Terrorism, the Cambridge Review of International Affairs, the Georgetown Journal of International Affairs, Contemporary Security Policy, the Journal of Political Science Education
, and
Democracy and Security
. He also serves on the editorial boards of several journals, including
Terrorism and Political Violence, the Journal of Strategic Security
, and the
Journal of Transportation Security
.

Forest heads the Security Studies Program and the Center of Terrorism and Security Studies at UMass
His most recent books include Homeland Security and Terrorism, a collection of essays co-edited Russell Howard and Joanne Moore, and Intersections of Crime and Terrorism.
Dr. Forest received his graduate degrees from Stanford University and Boston College and undergraduate degrees from Georgetown University and De Anza College.