Intern Stephany Cornejo served at the U.S. Mission to International Organization in Vienna.
For first generation college student Stefany Cornejo, her internship turned out to be even bigger and better than her dreams.
Cornejo, a native of Huntsville who envisioned joining the local police department, recently returned from a fall internship in Vienna, Austria, where she assisted the United States mission to control drug trafficking, track international organized crime, fight human trafficking and wage war on corruption through cooperative projects with the United Nations. Along the way, she interacted with ambassadors, mission chiefs and political officers from countries around the world and got a behind-the-scenes look at two diplomatic missions by Secretary of State John Kerry during his nuclear talks with Iran.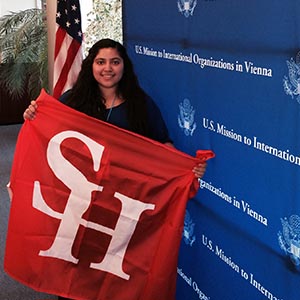 "Being a first generation minority student, I could have never even imagined this," said Cornejo, who graduated in December. "I had many amazing mentors here at Sam Houston State University and in Huntsville, who told me to look at all my options because they could open more doors. Every time, it opened doors beyond what I thought I could have ever imagined."

Cornejo (fourth from right) worked with the U.S. delegation at the United Nations Office in Vienna.
At the U.S. Mission to International Organizations in Vienna under the United Nations Affairs Section, Cornejo served the U.S. Department of State as a liaison to the United Nations Office on Drugs and Crime, monitoring issues on international –wildlife crime and controls for shipping containers, which are used to transport goods – and sometimes drugs, human trafficking victims or other contraband – across the globe. Her job was to be the U.S. representative and summarize meetings among UN member countries on $12.2 million in projects funded by the U.S.
Among the issues addressed during her internship were: training programs for foreign officers to recognize and seize wildlife being traded illegally; legislation in Thailand to prohibit the internal trade of wildlife; and training program for foreign officers to identify, document and investigate shipping containers used for drugs, human trafficking, the wildlife trade, or stolen cars.
"I didn't realize the quantity of illegal things being shipped and that, through training, how much of it we can get and bring criminals to justice," Cornejo said. "They are hiding drugs in bananas, pineapples and car engines; they are smuggling in illegal firearms and stolen cars and they are involved in illegal trafficking of people, wildlife – even timber."

Cornejo assisted at international conferences on shipping, nuclear technology and international crime issues.
She also assisted at three conferences for international delegations, including providing assistance to the U.S. Delegation team on technical training for landlocked countries to make it easier to ship goods through ports; preventing nuclear proliferation and using nuclear technology for economic development and human welfare; and updating members on international crime issue.
The highlight of her experience in Vienna was preparing for visits by Secretary of State John Kerry. She personally was assigned to take two shifts to set up activities for his free time in Vienna and to set up his rooms with office supplies during his stay. While she did not handle any of the security issues, she did provide logistical information and recommendations to attend a Christmas Fair and a football game. She also accompanied the entourage to the Palais Coburg for Kerry's meeting with high-level officials and helped set the room for the meeting. Finally, she helped the Public Affairs section in editing the official State Department photos that were distributed by the department on social media on the visit.

Cornejo scoped out local activities for Secretary of State John Kerry.
"It was fun to see how it all worked," said Cornejo. "There were high officials in and out and everyone has a different role. There are so many moving parts – it's amazing."
The experience prepared her well for her future career in the foreign service.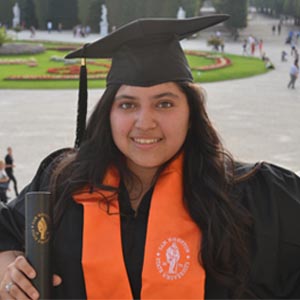 Cornejo said she always wanted to work in criminal justice since junior high when she began volunteering at the Huntsville Police Department and shadowing officers. At Sam Houston State University, she studied criminal justice, and one of her mentors suggesting studying a foreign language to expand her opportunities. In December, Cornejo will graduate with a double major in Spanish and Criminal Justice. After graduation, she plans to attend graduate school at SHSU, Texas A & M, or Columbia University. She is also investigating fellowships with the Department of State.

Cornejo capped off her undergraduate program at the Summer Palace in Vienna.
Cornejo said she learned more lessons than she can count from her internship and said it was the "perfect end" to her undergraduate career. The experience enhanced her knowledge in foreign service, in working with people from many countries, in taking quick and efficient notes, and on understanding the life of a foreign service officer.
"Every day I was drowning in new information, and it was hands-on learning as I went," Cornejo said.
Her supervisor, James D. Applegate, Deputy Counselor for UN Affairs, had high praise for her work.
"Stefany Cornejo was an exceptional intern, and I cannot recommend her highly enough," Applegate wrote. "Her motivation, hard work and team spirit will take her far in whatever she does. Her criminal justice background was a huge asset."