Intern Marcus Ussery worked in a private investigator's office.
Marcus Ussery, a McNair Scholar at Sam Houston State University (SHSU), stepped into the intriguing world of a private investigator, walking right into a capital murder case 0n his first day on the job.
As an intern with Peel & Associates Research Group in Bryan, Ussery was charged with reviewing documents, transcripts and evidence in the case to make sure everything was accounted for and every lead was followed for the defense team at trial. Because of his training in forensic science, he was also able to identify what looked like a bullet graze on the arm of a co-defendant, a piece of evidence that had not been followed up by police.
"The defendant got life without parole," said Ussery. "He didn't deserve life, but we left it in the jury's hands."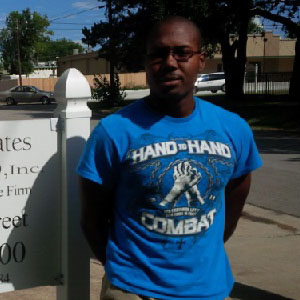 The private investigation firm works on criminal, civil and family law cases and is operated by a fellow Bearkat, Tom Jagielski ('87), who began his career as an investigator with the Brazos County County Attorney's Office after serving as an intern there. After rising to the rank of assistant chief investigator, Jagielski decided to switch to a law enforcement career, joining the College Station Police Department.
During his 21 year career with the Department, Jagielski worked patrol, narcotics, crime scene investigations, bicycle patrol, community policing , and the crisis intervention team for those with mental health issues. After retirement, he worked a few jobs before opening Peel & Associates.
Jagielski took Ussery under his wing to show him the inner workings of the job, not only allowing him to assist in current investigations, but also reviewing old cases to demonstrate how the job is done.
"I think it gave him some real life experience and insight," said Jagielski. "At college, they give you the ins and outs of being a police officer, but they don't give you the other side of the street. We do defense work. Maybe, sometimes police are not correct in their assumptions. We cannot change the facts; we just want to bring them to light so the jury system can work."
Ussery hopes to get his license as a private investigator after his graduation in December. He said SHSU helped prepare him well for the job, especially through research training in courses and crime scene investigation tools from Forensic Science.
"Be committed to what you want to do and go for it," said Ussery, giving advice to other SHSU students. "Get used to doing research and taking great notes. If you are working as a private investigator, you will be doing a lot of reading."
Jagielski said that it is careful reading of reports that wins or loses cases.
"Interns have to have common sense and put things together," said Jagielski. "In case reports or interviews, they have to look for the subtle nuances."
At Peel & Associates, Ussery assists with reviews of criminal cases, going over evidence, audio files and statements with a fine tooth comb. He also accompanied Jagielski as he delivered subpoenas.
Ussery said SHSU showed him all the theories about criminal justice, while the internship taught him how to apply it. "Now I know where they got all that textbook information," Ussery said.