Fred Rangel, member of the Texas Board of Pardons and Parole.
Fred Rangel, an alumnus and former Project Coordinator for the Correctional Management Institute of Texas (CMIT), was recently appointed by Gov. Rick Perry as a board member for the Texas Board of Pardons and Paroles.
"Working for the Board of Pardons and Paroles was always my hope for my second career following my retirement from community corrections," said Rangel, who received his bachelor and master's degrees from Sam Houston State University. "Having worked on the front end of the system, I always wanted to work at the back end to help determine which offenders earned the privilege to go back to their communities and become productive members of society."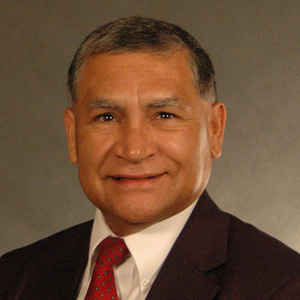 As a board member for the Pardons and Paroles Office in Huntsville – one of seven offices in the state -- Rangel works with other board members and parole commissioners to determine which eligible offenders will be released from prison on parole and the conditions they will be required to follow, as well as which parolees will be revoked after violations or new offenses and sent back to prison or to alternative programs to aid in their rehabilitation. In addition, Rangel and his fellow board members are exclusively responsible for voting on cases of the most serious and violent offenders coming up for possible release as well as considering applications for clemency and making recommendations to the Governor.
"It's an important process for balancing the rights of victims with the belief that some offenders have the capacity to change while also safeguarding public safety," said Rangel. "The challenge is in evaluating and analyzing a lot of information from various sources and making an informed decision on which offenders can be safely released to the community".
Nearly all of the seven regional offices, situated near cluster of state prisons across the state, are assigned a board member and two parole commissioners to review cases and act as voting panels. The Board is comprised of seven board members appointed by the Governor and confirmed by the senate. Additionally, the Governor designates one board member to act as Chair who is responsible for selecting and employing 14-parole commissioners to assist the board in fulfilling its duties. The Huntsville Office also serves at the headquarters of the agency, which is headed by Chairwoman Rissie Owens, a fellow Bearkat and board member.
The Huntsville Board office oversees offenders eligible for parole from the following Texas Department of Criminal Justice units: Byrd, Cleveland, Diboll, Duncan, Eastham, Ellis, Estelle, Ferguson, Gib Lewis, Goodman Transfer, Goree, Hamilton, Holliday Transfer, Huntsville, Kegans State Jail, Luther, Pack, Polunsky, Wynne and Federal.
Other Parole Board Offices in the state are located in Austin, Amarillo, Angleton, Gatesville, Palestine and San Antonio. Together, the Texas Board of Pardons and Paroles made more than 97,000 case decisions in Fiscal Year 2013 and granted release to more than 36 percent of offenders eligible for parole.

Rangel stands next to his weekly delivery of cases from TDCJ.
The Huntsville Board office bears witness to the high volume of cases processed by the Parole Board. Boxes are stacked up around the office from hundreds of cases that are reviewed each week. Case summaries are prepared for each offender by institutional parole officers at each unit prior to release consideration by a voting panel.
Unlike portrayals on television, victims and offenders often do not attend parole hearings, unless there is a specific request from the victim to do so. Only offenders who have served sentences of more than 20 years are required to have face-to-face interviews with the lead voter, which are conducted at the facilities where the offenders are held.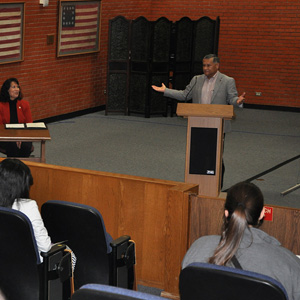 Rangel recently returned to SHSU to celebrate the new National Organization of Hispanics in Criminal Justice student organization.
Before being appointed as a board member, Rangel served as a Parole Commissioner at the Angleton Board Office. He spent most of his career in community corrections, starting as a juvenile probation officer in Montgomery County. Later, he oversaw a 64-bed substance abuse treatment program for adult probationers in the county.
Rangel also served as Director of Adult Probation in Angelina County, Lufkin before his retirement in 2006.
Following his retirement, Rangel served in a series of related jobs, including as a Project Coordinator at CMIT, where he helped develop the Senior Level Leadership Program which attracted participants from state adult and juvenile justice agencies as well as local community corrections practitioners. He also oversaw CMIT training programs for juvenile and adult probation officers.