Tue, Feb 24, 2015
2:00pm - 3:00pm
Hazel B. Kerper Courtroom
As a Bryan police officer for 28 years, Ben Smith witnessed the impact of impaired driving accidents and arrested more than his share of DWI suspects. After his retirement, he now is helping the victims, families, and friends of those involved in drunk and drugged driving cases.
Smith is a Victim Advocate for Mothers Against Drunk Driving (MADD) for East Texas, which consists of 12 counties including Brazos, Burleson, Grimes, Houston, Leon, Madison, Polk, Robertson, San Jacinto, Trinity, Walker and Washington. He assists victims with the emotional, economic and legal issues that arise from their cases.
"I saw the tragedy and carnage involved with accidents, many of them caused by impaired drivers," Smith said.
At MADD, Smith offers support to victims, family, and friends of those injured or killed in drunk and drugged driving accidents. He provides emotional support and assesses their needs.
He serves as a liaison between law enforcement and prosecutors as he talks with insurance companies for accident claims and provides referrals to counselors or civil attorneys. Smith also assists victims with applying for the Crime Victims Compensation Fund to help cover expenses caused by the crime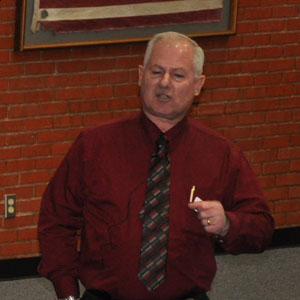 MADD offers a large library of free material on impaired driving and other related subjects, such as burns or spinal cord injuries or information for those who have lost a spouse or child. MADD of East Texas offers monthly support groups, called Victims Visiting and Helping Other Victims, as a place where victims can gather to get help and understanding from one another.
Smith ushers victims and their survivors through the criminal justice process, accompanying them to meetings with prosecutors or sitting with them at trial. He helps to interpret the complex legal issues that arise in the process.
"I've met a lot of families going through serious and sad tragedies," said Smith. "I can't imagine burying my children or a spouse, especially being in the crash and seeing it happening before your very eyes."
Smith said through the years he has lost a couple of friends to drunk driving, including his daughter's best friend. As a police officer and a victim advocate, his focus is to put offenders behind bars.
"I guess you could say it is one of my passions," Smith said.
For those interested in careers in victim services, Smith recommends that students volunteer at a non-profit agency to get the experience they need in the field.