Training
The Institute sponsored training for middle and high school teachers in forensic science over the summer.
Middle and high school teachers will get hands-on experience in forensic science this summer, whether they are interested in working with their students in the laboratory or at a mock crime scene.

The Institute for Forensic Research, Training and Innovation (IFRTI) and the Southeast Texas Applied Forensic Science Facility (STAFS) are offering a series of continuing education courses this summer to expose teachers to the latest research, equipment and practices used in the field. The courses also offer materials and experiments that can be brought back to the classroom to teach students interested in forensic disciplines.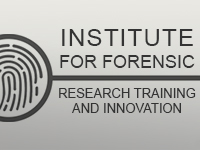 The Institute, which was created in 2014 to develop academic-industrial partnership to promote interdisciplinary forensic research and to train professionals in the field of forensic science, will kick off its offerings with the Forensic Science Educator Training on July 13-16. The Forensic Science Program first offered this training conference in 2009, and it has been extremely successful. The program for middle and high school teachers is an intensive, hands-on opportunity to incorporate forensic science topics in the curriculum, particularly in a lab setting. Topics include forensic chemistry, drug analysis, toxicology, serology, DNA, trace evidence, forensic pathology, anthropology, entomology, questioned documents, digital evidence and more.

The four day conference allows teachers to interact with subject matter experts within each discipline, access scientific instrumentation used in the crime lab, and participate in a curriculum development workshop to help put it all into practice in the classroom.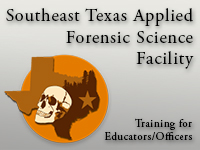 The Southeast Texas Applied Forensic Science Facility, one of only six body farms in the country dedicated to the study of forensic anthropology, will present four short courses this summer on various topics in crime scene investigations, ranging from two to five days. Among the topics will be Forensic DNA Typing, the CSI Crime Lab Experience, Pattern Evidence for the Forensic Educator and Entomology.

The DNA course will cover basic concepts and principles of forensic DNA testing as well as hands-on experiments that can be reproduced in a high school laboratory setting. Among the issues covered are sample collection and storage, DNA extraction, PCR amplification and genotype analysis of evidence and paternity cases, data interpretation, and some biostatistics.

The CSI Crime Lab course will examine complex crime scene investigation principles and techniques in a fun and engaging way by performing team-type, hands-on CSI activities, which easily can translate to any classroom setting. Participants will gain experience with evidence gathering and testing techniques, such as patterns and glass fracture analysis, trace evidence analysis, the creation of crime scene sketches, and criminal profiling techniques and sketches.

Pattern Evidence will explore such topics as Latent Print Identification and Processing, and Bloodstain Pattern Analysis, including the fundamental physics of bloodstaining and the recognition, processing and analysis of blood stains at crime scenes.

Finally, the Entomology class provides the foundation of insect biology with a concentration on forensically significant insects and how insects are used in forensic proceedings.

For more information on these or future short courses offered visit the Institute for Forensic Research, Training and Innovation's website at www.IFRTI.org or STAFS at www.cjcenter.org/stafs.