From a young age Cirilo Portales was always taught to give back to his community, and now that he has graduated from Sam Houston State University he wants to do this by becoming a police officer for the City of Rosenberg.

Portales recently completed an internship with the Rosenberg Police Department, where he was exposed to various specialty areas and accompanied patrol officers on the streets to better learn about his community and the everyday activities of the agency. He plans to complete the police academy in the fall semester of 2015 from Wharton County Junior College to be ready for the next opening on patrol at Rosenberg.

"I would like to thank the department for allowing me to work with the different divisions, personnel and officers, and the College of Criminal Justice for allowing me the opportunity to intern and to gain this valuable experience" Portales said. "I hope to put it to use when I begin my career in law enforcement. This profession is in a very difficult state right now, and community interactions with the police are becoming something to be frowned upon. The Rosenberg Police Department takes pride in 'Community Policing', working with the community whenever possible which is exactly what I want to do. This city is my community, and I want to serve it as a police officer…this internship just further assured me that this is what I wanted to do and where I wanted to do it."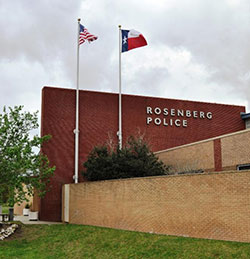 This internship was not the only interaction that Portales had with the police department. He had previously participated in ride-alongs with a number of officers and had also graduated from the citizen police academy, remaining active with its alumni association in fundraising efforts for the department.

During his internship, he also served as an interpreter for Spanish-speaking citizens. "I rode out with different officers for eight weeks and was able to assist them on any non-violent calls," said Portales. "I helped in investigations by translating when it was needed. I participated in traffic stops and I learned how to use the ticket writer to issue warnings or citations."

"Having ridden on different shifts, I was able to learn and observe some of the different ways that officers police. I know that I will be able to take a bit from every officer to create my own unique style of policing," he added. "Every shift is unique in its own way; on the later part of evening and night shift is when the criminals typically come out, and officers seek to detect criminal activity. They're able to stake out places and try and catch criminals in the act. On day shift, officers are typically responding to calls and dealing with the aftermath of what happened the night before, writing and following up on reports of crimes that have already occurred."

Prior to the eight weeks on patrol, Portales spent two weeks each with four other divisions of the department: communications, detention, criminal investigations, and identification.

"The Rosenberg Police Department is able to provide direct guidance to an intern on the daily challenges and daily rewards working in law enforcement," said Lt. Cody Daily, the department's public information officer and Portales' supervisor. "This internship provides the intern with real life experience that the Rosenberg Police Department believes will create future leaders in law enforcement and communities. Cirilo Portales was a model intern during his internship that did not go unrecognized in his drive to pursuit a career in law enforcement."

Portales got a behind-the-scenes view of emergency communications in Rosenberg for police as well as for emergency medical and fire services. He said dispatchers are a vital asset to police work, and often go unrecognized in the profession. Dispatchers receive and distribute critical information among citizens, police, fire and EMS personnel. They quickly gather pertinent information from callers, such as descriptions of people, names, phone numbers and addresses and send assistance their way. Dispatchers are constantly updating officers with new information about a call that they may be responding to, providing warrant information and driver's license and vehicle registration checks.

Portales also worked in the city's jail, where those arrested are either taken to serve their time for city charges or are transferred to the county facility to serve time for more serious offenses. There, he saw the court process in action, including the booking of those arrested, the use of remote digital cameras for appearances before a judge, the bonding process and the paperwork involved in the case. Portales already had some experience with the detention process, having served for 18 months as a part-time correctional officer in the Estelle Unit with the Texas Department of Criminal Justice while being a full time student at SHSU.

In the Criminal Investigations Division, Portales observed the investigation process in action. While no new cases were initiated during his time there, he watched leads develop and observed how the code of criminal procedures was followed during the investigation of a case as well as how the division targeted burglaries and thefts with different special assignments.

In the Identification Division, Portales observed two death cases, including the victim of a fire and the victim of a suicide. He witnessed the autopsies of both victims at the Galveston County Medical Examiner's Office, where they were able to determine the cause of death. He also saw how the investigators processed evidence collected by officers and handled the paperwork that went with each case on a day-to-day basis.

Portales said he is grateful to Sam Houston State University College of Criminal Justice for allowing him to get experience prior to starting his law enforcement career. "This internship has allowed me to gain experience that I otherwise would not have gotten had I not attended college or SHSU," said Portales. "Now, when I go to the police academy, I will be able to apply my knowledge of law enforcement to what I learn in the classroom. I will be able to react to and know how to handle certain situations based on this experience. I would once again like to thank the Rosenberg Police Department for allowing me to intern, and to the College of Criminal Justice for providing me the opportunity to do so. I would like to encourage other students to also take advantage of opportunities such as these so that you may become better prepared for your chosen profession."