Alumna Tamara Young-Niquette ('98) had planned to go to law school, but instead she found her calling in helping victims of crime in Harris and Montgomery counties.

For the last eight years, Young-Niquette has been the sole victim liaison for the Montgomery County Sheriff's Office, aiding those whose lives have been impacted by violent crime, such as homicide, domestic violence, or sexual assault.

"I really feel like this is my calling," said Young-Niquette. "I have to believe that this is what God had for me to do. It is just my form of service. You see people at their worse…What keeps me going is truly making a difference in someone's life."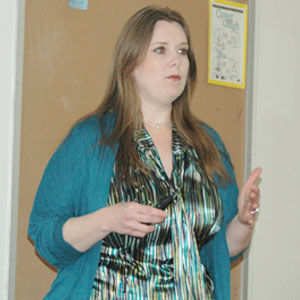 Young-Niquette has witnessed the devastation of violent crime in Montgomery County, one of the fastest growing counties in Texas and across the country. Yet, in this up-and-coming cosmopolitan area, there are pockets of poverty and despair, where victims of abuse and crime have little access to services. Some county residents have no phones, no electricity and no transportation.

"After being a victim of a violent crime, your world will never be the same again," Young-Niquette said. "You have to help them find their new normal."

One of the first things Young-Niquette has to do with victims is to debunk the myths about the criminal justice system created by the CSI television series.

"People get influenced by watching shows like CSI and think that crimes get solved in an hour," said Young-Niquette. "If someone get their weed-eater stolen, they think police will be out taking fingerprints and casts from footprints. The public believes that is what happens because that's what they see on TV."

Young-Niquette explains the criminal justice process and steps along the way, such as grand juries, indictments and bonds. She makes referrals to other agencies that can assist the victim with financial issues, networks for victims, unemployment benefits, drug treatment, immigration issues, medical treatment, public housing, law enforcement, domestic violence, mental health, child welfare and juvenile justice. Although she is not a trained counselor, Young-Niquette often is the person the victim leans on most.

Following an internship with the Harris County District Attorney's Office, Young-Niquette was hired in the Victim-Witness Division, where she was assigned to sexual assault cases as well as other felony cases for 12 courts. She still keeps in touch with one of her first victims from 1998, a young woman who was brutally raped and beaten and left behind a dumpster to die. Sexual assault cases are particularly difficult for victims because the rape kit process takes hours, and victims often get a bill from the hospital, which only is partially covered by the system.

"It is humiliating and is hours long," said Young-Niquette. "It is extremely intimate. No wonder 60-80 percent of cases go unreported."

Another crime which poses complex issues is domestic violence. "Everyone tells the victim:
'Just leave,'" Young-Niquette said. "But it is not that easy."

Many victims of domestic violence live in remote areas and have no jobs, no high school diploma, no relatives to go to, no transportation, and no money. They fear losing their children.
"Success in the criminal justice field is often different than what success is for the victims," said Young-Niquette.
"If police arrest your abuser, it might be successful in that the victim will not be beaten again, but that victim may be left with no phone, no electricity and no transportation."

One of the issues Young-Niquette frequently addressed is the Crime Victims Compensation Fund, which helps pay for medical services, counseling, lost wages and funeral expenses for victims and their families when insurance is not available. However, it falls short of replacing everything a victim has lost.

"Crimes don't just affect the person," said Young-Niquette. "It affects their family and friends and all the people that know her."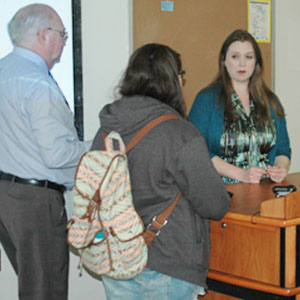 Young-Niquette also tries to educate criminal justice professionals about the effects of trauma and how to avoid re-victimizing the victim. When a person is a victim of violence, he or she frequently cannot remember things in chronological order; the incident will appear as tidbits, pieces and flashes. He or she may not fight back and experience shock, denial or guilt.

Over the years, Young-Niquette has developed some important lessons for those working in the victim services field. They include moving beyond your own personal assumptions and misconception about situations you may encounter; letting the victim tell you what he or she needs; realizing the fact that you can't save every victim; not making promises to victims; and understanding that some victims will remain victims throughout their lives.

Young-Niquette still remembers certain cases, including the high school student who was beaten for five hours and sexually sodomized by classmates. Despite a successful prosecution, which resulted in terms of life and 90 years for the two suspects, the victim could not live with what happened to him and the continued notoriety of the case. He committed suicide.

"One of the most important things I say to them is 'You didn't deserve what happened to you,'" Young-Niquette said.