A new student organization at Sam Houston State University is dedicated to assisting abused and neglected children in the local foster care system.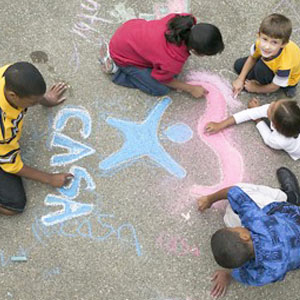 "Our motto is 'For the Children,'" said Amanda Thurkettle, president of Kats for CASA, which raises funds and assists Court Appointed Special Advocates (CASA) for Walker, San Jacinto and Trinity counties. "It's all about the children."

CASA is a group of citizen volunteers who represent and advocate for children in foster care in courts. These highly trained volunteers become the "eyes and ears" for judges for children in the community. They visit children and research their needs to help judges find the best options for safe, permanent homes. CASA volunteers serve as the sole voice for the child in court proceedings.

While some of the students in Kats for CASA serve as Court Appointed Special Advocates, volunteers are required to be 21 years old to be appointed to the position. Because of the overwhelming needs of the organization, students from criminal justice, education and psychology banded together to raise funds to support the local organization. Last year, they donated $500 to the agency through monthly activities, including Valentine's Day cards, bake sales, and events held during Child Abuse Awareness Month.

"Last year, we started a Child Abuse Awareness Month," said Thurkettle. "Working with Pay It Forward, in April we sponsored fundraising events, like a foursquare competition, a balloon release, a bake sale and penny wars."
This year, the group hopes to expand its membership and efforts. It received a $500 startup award from SHSU to pay for tee-shirts and a banner to raise its visibility on campus. It hopes to parlay those actions into providing more money for CASA, perhaps even funding a full-time position at the agency.

Kats for CASA also participates in fundraising efforts sponsored by CASA, such as a 5K run and an upcoming Skeet Shoot. In addition, the student organization started an online resale shop, where they sell used furniture through the "Offer Up" phone app and donate most of the proceeds to CASA. The group was recognized by CASA for their involvement at the agency's annual banquet.

The new student organization is the brainchild of several current and former admissions staff from SHSU, including Keith Ahee, April Cano, Clair Collins, Haley Riley and Rebecca Gay (now of Continuing Education). The staff group established the constitution and created the mission and vision for the student organization prior to soliciting members before the spring 2015 semester. Thirty-eight students signed up, and the organization now has its own student leadership team, which has taken over operations.

Ahee has served as a Board Member at CASA of Walker, San Jacinto and Trinity County for a year, assisting with fundraising efforts and on the personnel committee.

"One of the biggest things I enjoy with my job is working with student organizations," said Ahee, a College of Criminal Justice graduate. "As a staff member at the University, it is important to enroll students, but it is just an important to keep them, and student organizations help do that. It is my way to reconnect with students after they get here."

Ahee also serves as a student adviser to three other student groups at SHSU, including Colleges Against Cancer (Relay for Life), Theta Chi Fraternity and Ducks Unlimited.