As a Homeland Security Planner for Harris County, Alumna Stevee Franks (MS '14) is always ready for a disaster -- it's literally her job.
Franks, a graduate of the Master of Science in Security Studies program, is responsible for developing, organizing, documenting and maintaining emergency response plans for the Harris County Office of Homeland Security and Emergency Management (HCOHSEM).

"Harris County is such a large and diverse community of individuals, businesses, and critical infrastructure so it is important to plan for any and all hazards that may affect our community," said Franks.

Working closely with stakeholders throughout communities in Harris County, she handles multiple projects evaluating, developing, updating, and maintaining plans for threats and hazards as well as understanding relevant policies for each situation. She represents the office at meetings and provides assistance and coordination among the county and other partners, and during an emergency, she may be called upon to perform specific emergency response activities at the Harris County Emergency Operations Center (EOC).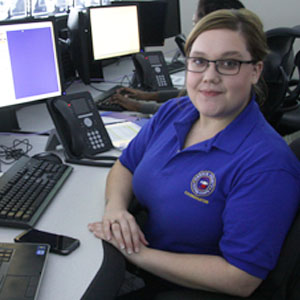 Franks began her career in Harris County following an internship with the office, where she served in the planning section. That section is charged with creating plans for all types of disasters focusing on how to mitigate, prepare for, respond to, and recover from each situation.

"An internship is a great way to see how much potential a student or recent graduate has in the field," said Harris County Emergency Management Coordinator Mark Sloan. "Stevee worked hard and developed a good work ethic while she was here, so we decided to bring her on as a paid employee."

During her internship and subsequent tenure, Franks has come to understand and value the benefits of teamwork as well as utilizing every emergency situation as a learning experience as well as a way to grow both personally and as an employee.

"You have to make yourself available," said Franks. "You have to be there to do something that needs to be done. I know it sounds simple, but it's true! You would be surprised how often being available and willing to tackle a project or issue, no matter how small, will help you in life and your career. It shows that you are a team player, you take initiative, and you care about what is going on."

The Emergency Operations Center is located at Houston TranStar, which manages transportation corridors in the region. TranStar is one of only five centers in the nation that houses transportation and emergency management under the same roof. It is a partnership that allows the EOC to monitor closely the impact of emergencies on traffic throughout the area.

By volunteering during emergencies – and getting hands-on experience in her graduate program – Franks landed a job as a Citizen Emergency Response Team (CERT) Coordinator in the office following her graduation. Soon after, in November of 2014, she became a Urban Area Security Initiatives Homeland Security Planner, and she absolutely loves her job. She said the HCOHSEM offers many opportunities in the security studies field, including training/exercises, planning, logistics and administration/finance. The office coordinates with partners in order to aid in the response to a wide variety of emergencies, including fires, hazmat situations, special events, health epidemics, transportation issues and bad weather.

"Harris County has 34 cities including: Houston, Pasadena, Deer Park, Humble and LaPorte," said Franks. "It includes 54 fire departments, 125 law enforcement agencies and the largest export port in the U.S. It is also a major hub for the energy and medical communities. It is a very large and complex environment"

Franks said Sam Houston State University prepared her well for her career, including professors who cared about her future, networking opportunities that linked her with professionals in the field, and hands-on experience in fields like emergency management by utilizing resources such as the Incident Command Simulation Training Suite at Law Enforcement Management Institute of Texas. The program stages mock disaster drills, allowing students to understand the terminology and activities involved in a real life emergency.

"It helped me with networking, and the professors let you know they cared about your future," Franks said. "They taught us what we really needed to know not only through reading and research, but with applied programs and hands-on experience."