Alumnus Lt. Jerry Philpott recently was named head of the Homicide Division for the third largest county in the country.

Lt. Philpott, who earned his bachelor ('91) and master's degrees ('05) at Sam Houston State University, started his career with the Harris County Sheriff's Office the day after graduating from the College of Criminal Justice in 1991. After being promoted to detective in 2003, he served in various divisions including Robbery, Burglary and Theft; Criminal Warrants; and the Crimes Against Children Unit. In May, Lt. Philpott was put in charge of the Homicide Unit, which also handles missing persons, runaways and cold cases.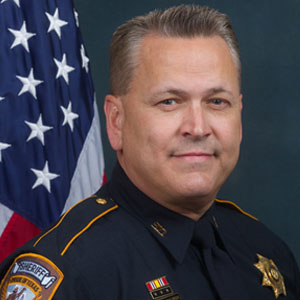 "This unit is responsible for investigating homicides and includes infant deaths, murders, suicides, officer-involved shootings and kidnappings," said Lt. Philpott. "I can say the investigators assigned to the unit are some of the most committed and dedicated individuals I have ever worked with…it is stated that being assigned to the Homicide Unit, 'It's not just a job, but rather a lifestyle.'"

There are 16 full time investigators assigned to the unit. In 2012, the unit responded to 403 scenes; in 2013 to 431 scenes; and in 2014 to 352 scenes. Most of the cases occur late at night and on the weekends, pulling these detectives away from home and family.

"The call-outs they are responsible for are often overwhelming," Lt Philpott said. "The investigators are frequently pulled away from their families in the middle of the night to respond to a scene. Working a murder is a daunting task due to the nature that each scene is unique and often requires a great deal of time and resources. There are cases that are closed within a day, and other investigations remain ongoing for months and even years."

The Homicide Unit works hand-in-hand with the Crime Scene Unit, which processes the scene. "The two units maintain a close working relationship; the Homicide Unit could not adequately perform investigations without their expertise," Lt. Philpott said.

As supervisor of the unit, Lt. Philpott does not go out on every scene, but rather is assigned to officer-involved shootings, high profile deaths or those with multiple victims. His job involves reviewing statistical data and crime scene investigations, attending meetings, and responding to open records requests and the media.

"Being an administrator has always been part of my personal career path; however, I do miss the investigative aspect of law enforcement," said Lt. Philpott. "Working cases and obtaining confessions from suspects is something I miss the most."

Before joining the Homicide Unit, Lt. Philpott was in charge of the Special Victims Unit, which encompassed Crimes Against Children, Family Violence, Adult Sex Crime, Sex Offender Registrations and the Victim Assistance Unit. He also worked for a year in the Internal Affairs Division, which investigates complaints of officer misconduct and policy violations.

One of Lt. Philpott's most rewarding assignments was working with the Houston Metro Internet Crimes Against Children Task (ICAC) Force, which tackled internet pornography involving children. A collaborative effort among the Harris County Sheriff's Office, the Houston Police Department, the Harris County Constable's Office and the Pasadena Independent School District Police, the program produced more arrests than any other of the 61 ICACs across the country.

"The work I did with the task force was extremely rewarding, but also very challenging," Lt. Philpott said. "Having to look at graphic images of child exploitation each and every day can take a toll on investigators."

Lt. Philpott said that law enforcement is in his blood.

"I'm not sure if I chose law enforcement or if itchose me," said Philpott "My great grandfather and grandfather were both police officers. As a young boy I admired both, especially my grandfather. He was my friend, father and role model. I knew at a very young age I wanted to follow in his footsteps."

Lt. Philpott said that his education at Sam Houston State University provided a "solid foundation" for his career and offered him many tools that he builds upon each and every day. For students who want to work in the homicide field, he suggests getting as much experience in patrol and investigations as possible.

"Even more importantly would be to refine their interpersonal skills," said Lt. Philpott. "Interviewing both witnesses and suspects is critical to the job. Asking the right questions and having persistence in order to obtain a confession is often time consuming and demanding."

Lt. Philpott said there is a huge difference between what you see on TV and what occurs in real life. "Crimes are not generally solved within an hour; it takes a great deal of patience, persistence and dedication to properly solve most murders."