Alumna Laurie Christensen still remembers the feeling of adrenaline from her first fire at the Pasadena Volunteer Fire Department, where she backed up her supervisor fighting the hot flames. When the hose burned in half, she raced outside to get a new one, and suddenly she was the one with the nozzle, with her supervisor taking up the rear.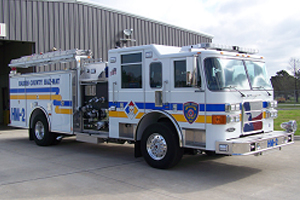 "That day I fell in love with firefighting," said Christensen.

Assistant Chief Christensen, who received her master's degree in Criminal Justice Leadership and Management from Sam Houston State University and graduated from the Leadership Inventory for Female Executives and Public Information Officer programs at the Law Enforcement Management Institute of Texas, now serves as the second in command of the Harris County Fire Marshal's Office, which offers a unique blend of firefighting and law enforcement skills in many aspects of the job, especially in suspected arson cases. Those who investigate these crimes are required to have both fire investigator and peace officer licenses to help get to the bottom of suspicious fires.

Harris County, the third largest in the United States, has its own Fire Marshal's Agency, which is responsible for coordination of fire prevention, fire investigation, education, and hazardous materials/weapons of mass destruction emergency response for the 53 fire departments of Harris County. The office is comprised of five branches, including Emergency Operations, Arson, Fire Prevention, Operational Support and Training. Christensen's job is to ensure that the office complies with all federal, state, and county rules and regulations related to law enforcement and fire safety.

Employees from the Fire Marshal's Office come from diverse backgrounds, such as law enforcement, architecture, the corporate world, industry and volunteer and career fire departments, to name a few. While the Arson Division is the only one that requires a peace officer license, several employees have come from law enforcement and serve in various branches, including inspections and hazmat.

The office is responsible for fire and life safety inspections of all new commercial construction as well as ongoing inspections at businesses that host the public, particularly nightclubs, restaurants, assisted living facilities and day cares. During these inspections, licensed peace officers may witness illegal activities, such as the presence of drugs, human trafficking, or other felonious activity, and they are authorized to make arrests or begin investigations of those crimes.

The office also responds to emergencies involving hazardous materials/weapons of mass destruction in the county, including those that involve chemical, biological, radiological, explosive, or terrorist threats. Those incidents also have included environmental crimes and illegal drug interdiction on multiple occasions. Those with peace officer licenses can immediately begin investigations of any illegal activity.

Assistant Chief Christensen began her career in the Simpson Paper Mill, where she joined the company's emergency response team, which handled incidents involving worker injuries, fires and chemical leaks. The company sent her to college to get her associate's degree to become a safety specialist at the plant. While working at the plant, Christensen had the opportunity to meet other safety personnel from other nearby industries, who would ask for her assistance whenever there was an incident at their site.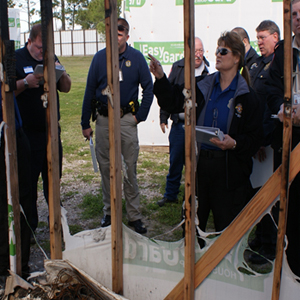 She joined the Pasadena Fire Department, which remains the largest all-volunteer department in the country. It was then she decided to pursue a career in the fire marshal's service, earning a peace officer's license after a nine-month academy. She served as a Deputy Fire Marshal in Pasadena and Fire Marshal in LaPorte before joining the Harris County Fire Marshal's Office in November 2004. Ten months later, as a new inspector with the agency, she found herself in the middle of one of the biggest recent disasters in the Houston region – the evacuees from Hurricane Katrina.

Christensen walked into the Astrodome to help with thousands of evacuees from Louisiana and soon found herself as the Logistics Section Chief for the mission to feed, clothe, protect and serve 72,000 people who came through the doors of the Astrodome. "We ensured that their needs were met," Christensen said. "They were no longer evacuees, they were part of our family now."

Joseph J. Leonard Jr., who served as Area Commander of the Houston Megashelter Operation, selected Christensen for the operation because of her "can-do attitude" and her ability "to overcome adversity."

"When I said I needed a capable Logistics Section Chief, she offered to try," Leonard recalled. "She not only tried, she succeeded where no one else could have. Over 23 days, she ensured adequate shelter services for over 72,000 residents, provided support for 8,000 responders and 60,000 volunteers, and readily transitioned to evacuation operations with the pending landfall of Hurricane Rita. An enviable feat! Did I mention she never served in logistics prior to this? Laurie is also a highly accomplished instructor and administrator--the kind of person I want with me in any type or kind of incident I have to manage."

For her efforts in Hurricane Katrina, Christensen received a "Certificate of Recognition" from Texas Gov. Rick Perry. She has also received several other awards recognizing her outstanding service to others.

Christensen credits a wide array of contacts for her success in that position, which helped escalate her career. She knew Leonard from a class at Texas A & M and many of the corporate leaders from her time working at the paper mill and at the fire department.

"Don't ever take for granted the people from your past and the relationships you have formed," Assistant Chief Christensen said.