Several new classes have been added to Project EnCriPT, a new initiative at the Bill Blackwood Law Enforcement Management Institute of Texas (LEMIT) to help law enforcement officers, firefighters, code enforcers, and sanitarians fight environmental crime.
The program, funded by a cooperative agreement with the U.S. Environmental Protection Agency, offers free, online classes for environmental investigators on various aspects of environmental enforcement. Open to investigators at local, state and tribal agencies across the country, the courses provide up to eight hours of training credit through the Texas Commission on Law Enforcement (TCOLE). One course, How to Handle the Media, is offered under a cohort model, where participants can take classes together online and submit writing assignments and papers on topics of interest for up to 40 hours of TCOLE credit.

Among the online classes available are:
An introduction to environmental enforcement
Personal safety
Illegal dumping of non-hazardous waste
Environmental sampling
Ethics
Media relations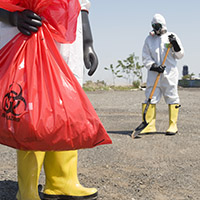 More than 400 investigators from throughout the U.S. and various countries have participated in these courses. A new live training is planned in Missoula, Montana on Nov. 18-19, which will provide instruction as well as hands-on demonstrations of skills and techniques that are used in environmental enforcement. This face-to-face course will cover tribal environmental pollution and wildlife enforcement investigation training.

The one-hour, online course on illegal dumping will cover one of the most invasive and prominent problems facing the nation and will show investigators the proper steps to combat the issue. The class will define non-hazardous waste, provide tips on processing illegal dumps, list proper safety equipment for retrieving and processing evidence, identify sampling techniques, describe how to apply this to environmental law, and demonstrate laboratory analysis reporting.

Environmental sampling will introduce participants to the different methods of sampling environmental waste, and the equipment needed to accomplish the job. It will provide a basic understanding of techniques used for future courses in water and soil sampling. In addition, it will include sampling plans; standard operating procedures; different techniques for solids or liquids; technical, laboratory and evidentiary considerations; documentation; and chain of custody. It will also address Quality Assurance Protection Plans, which document the planning, implementation and assessment process for a particular project.

Personal Safety will identify the dangers and threats facing environmental investigators and introduce health and safety plans to deal with different situations. It will help investigators identify risks and understand risk management and mitigation. It introduces health and safety plans, such as the common sense "Mindset to Personal Safety" and its three major components.

Introduction to Environmental Investigations will provide an overview of work in this field, including environmental crimes, history, the five elements of the environmental matrix, the recognition and identification of hazardous materials, the steps and techniques of evidence collection, the investigative resources inventory, technology available for investigations, interagency cooperation and jurisdiction and ethics.

For more information on these program, visit Project EnCriPT at http://www.lemitonline.org/environmental/.