Faculty
Patrick Buzzini and Sparks Veasey joined the faculty at Department of Forensic Science
The College of Criminal Justice added three new faculty members in the fall, Dr. Brandy Blasko in Criminal Justice and Criminology, Dr. Patrick Buzzini in Forensic Science and Dr. Sparks Veasey III, who will split his time between the two departments.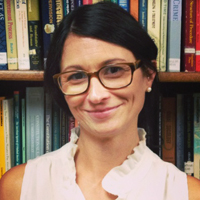 Dr. Blasko spent seven years as a clinician in the assessment and treatment of sex and violent offenders in the Pennsylvania state prison system, even while attending graduate school in pursuit of her Ph.D. in an effort to impact the policy level in corrections. Dr. Buzzini received his education at the oldest forensic science school in the world before coming to the U.S. to teach students and train practitioners at West Virginia University. Dr. Veasey, former Director of Quality Assurance and Special Programs for Montgomery County Forensic Services, served as a medical examiner, a prosecutor and a civil and criminal defense attorney.
Dr. Buzzini's areas of interest include trace evidence and questioned documents, where he has had the unique opportunity to serve as teacher, researcher and case worker in his discipline. "Casework is the fuel for research and in teaching," said Dr. Buzzini. "The key research questions are what is pertinent to the field, and we expose students to the problems you see in cases, which makes everything even more real."
Dr. Buzzini has worked with many kinds of trace evidence, including textile fibers, paint, glass, and gunshot residue. In questioned documents, he examines inks used on documents in criminal cases, such as a threat letter or suicide note, to determine the source. These examinations also may involve handwriting analysis, sources of paper, fingerprints, or microscopic debris and dust left behind on paper.
The tools of his trade include microscopy and spectroscopy, which examine materials in minute detail.
"I really like microscopy because it is instrumental in forensic analysis," said Dr. Buzzini. "The problem with evidence is the interpretation. What does the evidence mean?"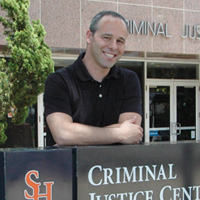 Dr. Buzzini's interest in forensic science began, ironically, in an English class while reading Sherlock Holmes and The Hounds of Baskerville. He enjoyed the scientific investigation involved in criminal cases and chose a forensic science major in high school. He was trained at the University of Lausanne in Switzerland, which awarded the first forensic science degree in 1909. There, he got to practice forensic science in all disciplines in the field and, upon graduation, he worked at West Virginia University for eight years.
Dr. Buzzini currently is working with the U.S. Secret Service to analyze counterfeit bills created on inkjet printers. He provided workshops for the West Virginia State Police and South African Police Services on analyzing hair samples as well as offered presentations to forensic science labs across the country on fiber and paint evidence. He also trains and mentors forensic scientists in Algeria as part of the U.S. Department of State International Criminal and Investigative Training Assistance Program and presents classes for defense and prosecution attorneys and judges on trace evidence and evidence interpretation.
Dr. Buzzini joined the Department of Forensic Science this summer, getting his first trainings underway at the Forensic Science Educators Training offered for high school and middle school teachers in July. Dr. Blasko joined the Department of Criminology and Criminal Justice in August.
Dr. Veasey will return to the College to teach full-time after serving in Forensic Services for Montgomery County since 2010. Most recently, he was the Director of Quality Assurance and Special Programs, where he performed autopsies, reviewed autopsy reports, worked on creating a Medical Examiner's Office for Montgomery County, tracked prescription drug overdose deaths, and investigated designer drugs in the area. Dr. Veasey was a faculty member at the College from 2004-2006.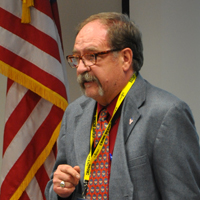 Dr. Veasey has a long and varied career in the criminal justice field. He previously served as the medical examiner for Montgomery and five surrounding counties in Southeast Texas as well as for Galveston County. He went to law school and worked as a prosecutor in Brazoria County and as a defense and civil attorney in Brazoria and Galveston County. He also served as a flight surgeon for the U.S. Air Force and traveled around the world investigating military plane crashes.
"I am delighted to be coming back," said Dr. Veasey. "I am delighted that the College will have the opportunity to have me back."
Dr. Veasey will teach courses in the fundamentals of criminal law and professionalism and ethics in the Department of Criminal Justice and Criminology and work with the Institute of Forensic Research, Training and Innovation to create quality training programs for professionals in the field. He will also teach Law and Forensic Science in the Spring.
Dr. Blasko said her passion lies at the intersection of criminal justice and psychology. In her research endeavors, she focuses broadly on how custodial environments shape interactions and outcomes. She is the principal investigator of The Prison Project, a long-term study of the prison experience from the viewpoints of prisoners, prison staff, and administrators. She also is involved in research on the exercise of discretion in decision-making by prison staff and wardens; prisoner suicide; procedural justice within prisons; and the therapeutic alliance in the context of sexual offender treatment.
"A lot of scholars study the front end of the criminal justice system, such as sentencing, and others study the back end, such as reentry," said Dr. Blasko. "But prisons are a black box in the middle; we can't assume prisoners go in one way and come out the same way."
Dr. Blasko will teach undergraduate research methods in the fall and corrections at the graduate and undergraduate levels in the spring. Dr. Blasko actively mentors students at all levels and is eager to involve Sam Houston State University (SHSU) students in her research.
Before joining SHSU, Dr. Blasko was an interdisciplinary Postdoctoral Fellow in the Departments of Criminology, Law & Society and Psychology at George Mason University, where she worked with mentors in both criminology and psychology. Over the past two years she worked on understanding client-practitioner relationships in the criminal justice system where these relationships and interactions are mandated. A common theme in this work and her other her studies is criminal justice decision-making and understanding how these processes impact the equity of outcomes.
Her dissertation, "The Uncharted Influence of Prison Staff Decision-making," demonstrates this unique approach in the field. The study was based on how release decisions were made in a prison setting and examined the discretion used by prison staff, how the decision-making process impacts prisoners' perception of the system, and the contributions prison staff make in discretionary release decision.
Dr. Blasko hopes to bring attention back to the prison system to examine such issues as procedural justice, relationships, and issues of fairness and trust. She works to shed light on the efficacy of the day-to-day prison environment as a rehabilitative tool.
Dr. Blasko received her Ph.D. from Temple University and a master's degree in Forensic Psychology from John Jay College of Criminal Justice. Her undergraduate work was in psychology and administration of justice at the University of Pittsburgh.