Angie's Awareness Angels
Oct. 15, 2015
2 p.m.
CJ Courtroom
This year, Justin Lopez will create new memories for the date his mother was murdered It will be the day he learns the sex of his firstborn child. "It sent chills up my spine," said Lopez.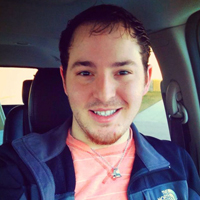 On Sept. 15, 2012, Angela Renee Fontenot Lopez, was killed by her ex-boyfriend in front of his then 12-year old sister, Porsha. In the wake of his mother's death, Lopez founded Angie's Awareness Angels to raise awareness about domestic violence and funds for women's shelters to prevent this horrible tragedy from happening again.

"Our main goal is we want to let people know that there are options out there that are available to them, such as counseling, career advocacy, and shelters," said Lopez, a kinesiology student at Sam Houston State University. "I would love to continue to speak out about domestic violence in memory of Mom."

During Domestic Violence Awareness Month in October, Justin Lopez is frequently called upon as a speaker to educate law enforcement officers and high school students about intimate partner violence. In addition to sharing his mother's story, he discusses teen dating with students and advocacy for victims with officers.

To enhance education about this violent crime, the Lopez case recently was featured in a new textbook, Victimology, by Leah E. Daigle and SHSU Professor Lisa Muftic, which will educate students around the country about victim issues, including intimate partner violence. Justin Lopez said his Mom will serve as a beacon for future generations to help fight this often hidden crime.

"We were so honored and excited to be a part of the book so Mom's story could be heard," Justin Lopez said. "Mom will continue to be a lasting educator from heaven."

According to the Texas Council on Family Violence, in the year 2012, 114 women were killed by a current or former intimate partner in Texas.

"Justin's Mom Angie was one of these women," said Dr. Muftic. "Rather than remain a nameless statistic, Justin has put a face to intimate partner homicide that includes not only his mother's but his family's as secondary victims/survivors of this horrific crime. I was absolutely thrilled that he agreed to let me share their story in the textbook, and I am convinced that it will leave a lasting impression on so many students."

Justin Lopez and his family are also active fundraisers for the Houston Area Women's Shelter and Phoebe's's Home --Twin City Mission, which serves victim of domestic violence in the Bryan area. The Houston Area Women's Shelter was where his mother could have turned to for help, and Phoebe' Place serves his local community. He was among the top five fundraising teams for the Houston Area Women Shelter.

In honor of his mother, Angie's Awareness Angels hosts an annual spaghetti dinner in October, which raised $2,500 and $1,500 respectively over the last two years. The organization also sponsors "Painting with a Purpose" events to raise funds to donate to the two shelters. They operate a Facebook page in his mother's honor at https://www.facebook.com/AngiesAwarenessAngels.

Justin Lopez serves as the legal guardian for his sister, now a high school sophomore who just received her driver's permit and is active in athletics in College Station. Porsha Lopez hopes one day to study veterinary medicine at Texas A & M.

Justin works as a property manager for KM Custom Homes in University Heights in College Station, managing 147 rental properties. He hopes one day to own his own real estate company and continue in the rental market. He also would like to turn his advocacy work into a full-time career.

Justin Lopez said his greatest achievement has been his family. One year after his mother's death, Justin Lopez met his wife Autumn. They were married in April, and Justin included his mother in the ceremony by carrying a portrait of her down the aisle. Together, Justin and Autumn Lopez are raising a family, which includes Autumn's two girls, ages 3 and 5, and Porsha. In February, the couple expect to add another child to their growing family.
Voices Le