Mark Bull's job is to help ensure safe travels for 52 million people a year who pass through George Bush Intercontinental Airport and monitor about 34,000 employees and contractors that work in three Houston area airports.

As the Assistant General Manager for Security and Emergency Preparedness at the Houston Airport System, the Sam Houston State alumnus and Adjunct Professor protects the day-to-day safety of Bush Intercontinental Airport and coordinates with his counterparts at Hobby International Airport and Ellington Airport.

"A good part of what we do is facilitate people through the airport, including driving on the road coming in, finding a parking space, getting through the lobby and terminal, and getting planes on the runway and into the air in the safest, quickest way possible," Bull said. "It really is a balance between providing good customer service and timely movement with enough procedures and technology in place to keep people safe."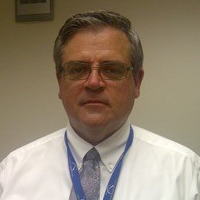 Bull's position is multi-faceted and involves many areas of operations at the airports. He is in charge of regulatory compliance and inspection not only for the Transportation Security Administration (TSA) rules and policies, but also for the rules and regulations handed down by the city of Houston. These regulations involve the movement of passengers, employees and baggage in and out of the airports. In fact, the inspections were recently beefed up after the press reported about airline employees found smuggling guns through the Hartsfield-Jackson Atlanta International Airport.

"It's pretty fast-moving, and everything is done on a quick time schedule," said Bull. "It never gets boring. If you enjoy helping people, it's a good job. It is a business of emotion. Some people are coming through to attend celebrations, and others are going to the funeral of a loved one. You get to see the full range of the human condition and the full range of emotions."

While the TSA is in charge of screening passengers, Bull is responsible for issuing credentials to anyone who works at the airport, including airline, concession personnel, and contractors. The employee vetting includes fingerprints as well as a security threat risk assessments by the Federal Bureau of Investigation (FBI) and TSA. It usually takes a week to issue new badges.

Bull also oversees the communication system for the airports, which monitors alarms, closed circuit television cameras, and dispatch for airport emergencies, maintenance or operations. The system also serves as an emergency operations center for major incidents and has been activated for such events as a plane that slid off the runway and a gas leak at the airport. Like the Harris County Office of Homeland Security and Emergency Management, the airport system includes representatives of all major airlines, local police and fire departments, and many federal agencies who have roles in air transportation in the case of an emergency.

Airports provide a wealth of job opportunities for criminal justice professionals. In addition to operating security forces, these facilities frequently house many federal and law enforcement agents, including Customs and Border Protection, the Department of Agriculture, Homeland Security Investigation, Immigration and Customs Enforcement, FBI, and the Houston Police Department. The Houston Airport System also has federal air marshals who work on planes and on the ground in the terminals.

Many of those who work in safety in the airport are former law enforcement or military officers. In fact, Bull spent 15 years in the U.S. Air Force Reserves, while working for the Texas Department of Criminal Justice. After 15 years, and attaining the position of Assistant Warden, he left the agency and started a consulting business. He joined the airport system in 2004 and also has been teaching at Sam Houston State University since 2010.

Bull recommends that students research what they would like to do in the criminal justice field before pursuing their degrees. He got his bachelor's degree in Law Enforcement and Police Science in 1992 and received a master's in Security Studies in 2009. He said it was also important to network with fellow students and professionals in college.

"You have to learn how to do the job, but until you have someone to introduce you to someone else, you can't get the job," Bull said. "I got to move around in my career because of the network I built."