The new president of the National Association of Blacks in Criminal Justice (NABCJ) at Sam Houston State University was appointed to a national post overseeing student chapters that fight for minority rights across the country.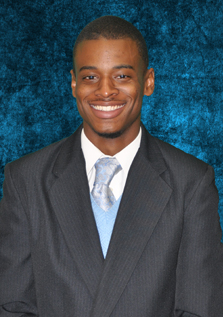 "The NABCJ informs minorities about legislation that may affect them and educates them about how they can change the system and how we are a major part of the system," said Xavier Perry, President of the SHSU NABCJ and Vice President of the Student Council for the national organization. "The NABCJ is really serious about minorities getting just representation."

The non-profit organization, headquartered in Durham, N.C., seeks equal justice for blacks and other minorities and consists of criminal justice professionals, including law enforcement, community and institutional corrections, courts, social services, academics and religious and community-based organizations. It is open to all races and ethnicities who are committed to the organization's mission.

"I know we have 'Black" in the name, but we don't want to deter anyone from joining," Perry said. "We have Caucasians and Hispanics on the national board, and as long as you understand the purpose, you are welcome to join our organization."

At Sam Houston State University, the student organization is active in the core components of the mission, which is presenting justice seminars on emerging topics in criminal justice, adopting a school to mentor students and participating in community service. In fact, in October, the group plans to offer two seminars to educate and inform fellow students on important issues.

On Oct. 6 , the SHSU chapter presented "Colorblind" to discuss police brutality among many racial and ethnic groups, whether it is confrontations involving Blacks, Whites or Hispanics. "It comes from all angles, and it is not just happening to minorities or males," Perry said.

On Oct. 26, at 5:10 pm in CHSS Room 140, SHSU NABCJ will present "Canceling Our Public Strife," an interactive presentation to educate students about proper interactions with police. The audience will be presented information on common police encounters and asked how they would respond. A panel of law enforcement officers will address the proper way to respond to interactions and the reasons behind it."

In addition to its justice seminars, the SHSU NABCJ performs community service by assisting families at Hospitality House, which serves the families of inmates in Texas Department of Criminal Justice prisons; entertaining seniors at the Carriage Inn retirement center; and mentoring students at the Boys and Girls Club in Huntsville.

Justice seminars, school mentorships, and community services are mandated for every chapter in the national organization. As the National Vice President of the Student Council, Perry assists in collecting information from local student chapters and compiling a biannual newsletter called The Student Exchange to highlight their accomplishments. He also guides chapters on the rules and regulations they must follow to remain affiliated with the national organization.
Perry already is instrumental in increasing student participation in the national organization by opening the national organization's teleconference to students and promoting the organization's annual job fair.

"I am extremely passionate about this organization, and I want to give everything I have to it," Perry said. "I have been encouraging my chapter to network by bringing in speakers every month because I want to get everyone out of their comfort zone. It's different graduating and looking for a job and graduating and having a job. That is something I want to do for the chapter and the NABCJ is there to help us by laying the groundwork."