Student Paper Wins Award
Ph.D. Student Alicia Jurek wins best paper for human trafficking research from regional organization.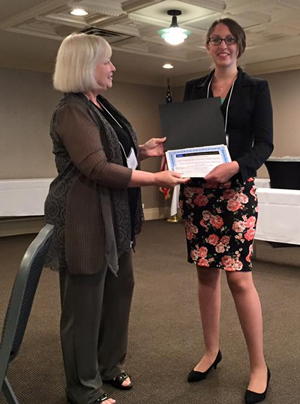 Alicia Jurek, a first year Ph.D. student at the College of Criminal Justice, was awarded the Outstanding Graduate Student Paper for 2015 by the Midwestern Criminal Justice Association.

Jurek's paper, "Police Agency Response to Human Trafficking," is an empirical assessment of the creation of specialized human trafficking units in American police departments. Based on a national random sample of 300 agencies with 100 or more employees, Jurek found 13.7 percent of these agencies have adopted specialized units to address human trafficking.

According to various estimates, there are 5,166 to 60,476 victims of human trafficking in the U.S. This estimate includes American citizens as well those who are brought into the U.S. for the purposes of labor and sex trafficking. Both groups face a range of traumas, including physical, sexual, and psychological abuse, social restrictions, economic exploitation, and health problems. There are an estimated 18.7 million human trafficking victims worldwide.

"Alicia's paper was the culmination of hundreds of hours of work," said Dr. William King, Associate Dean of Research and Program Development for the College of Criminal Justice. "She doggedly assembled data from her own surveys and from secondary sources to address the issue of how human trafficking is addressed by local police agencies in the U.S. Her findings have advanced. . . knowledge on this topic."

Jurek's study was based on organizational theory, including how changes in the organizational environment and how well females were represented in the department influenced the creation of human trafficking units. Jurek would like to continue to explore the issues of human trafficking as well as police organizational responses to special victims, such as sexual violence, human trafficking and violence against women.

The Midwestern Criminal Justice Association is a regional organization affiliated with the Academy of Criminal Justice Sciences. Its purpose is to foster communication and collaboration among criminal justice researchers, academics, and practitioners. Members of the association include representatives from Illinois, Indiana, Iowa, Kansas, Michigan, Minnesota, Missouri, Nebraska, North Dakota, Ohio, South Dakota, Wisconsin, and the Canadian Provinces of Manitoba and Saskatchewan.