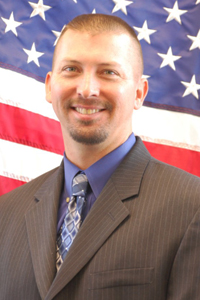 Wed, Nov 18, 2015
2:00 pm
Hazel B. Kerper Courtroom

Alumnus Jesse J. Williams II helps root out dangerous criminal aliens for U.S. Immigration and Customs Enforcement in Texas.

As Assistant Field Director of Enforcement and Removal Operations (ERO) at the San Antonio Field Office, Williams oversees three programs in the Austin, Del Rio and Waco areas, which target fugitives, criminal aliens and violent criminal aliens. He also is supervisor of the Special Response Team for the region, which is a special unit trained to serve high-risk warrants under hazardous conditions, escort dangerous criminal aliens who have been ordered to be removed, and assist local law enforcement agencies during critical incidents.

The mission of ERO is to identify, arrest and remove aliens who pose a threat to national security or public safety by entering the U.S. illegally. The office is charged with enforcing immigration laws in a fair and effective manner and focuses their efforts on convicted criminals, fugitives, those who pose a threat to national security, and recent entrants. They also manage illegal aliens in custody, provide access to legal resources and advocacy groups, and remove individuals who have been ordered to be deported.

Williams supervises the Fugitive Operations Unit, which targets fugitive aliens convicted of crimes or those who reenter the U.S. after being deported; the Criminal Alien Program, which works to identify and process criminal aliens at large or in federal, state and local jails and prisons; and the Violent Criminal Alien Section, which screens for repeat alien offenders and targets them with criminal prosecution by U.S. Attorneys.

Before becoming Assistant Director, Williams was the Unit Chief for the 287(g) programs, which partners with state and local law enforcement agencies to identify and remove criminal aliens. He also served in the Washington Field Office in several capacities and in the Secure Communities Program, which utilizes technology to share information between law enforcement agencies in an effort to assist local communities in removing high-risk criminal aliens. He also was a supervisory detention and deportation officer and served as a senior special agent in Homeland Security Investigations in Washington, D. C.

Williams, who earned his Bachelor of Science in Criminal Justice from Sam Houston State University and his Master of Arts in Criminal Justice from Boston University, began his career as a Border Patrol Agent in the San Diego section before serving as a State Trooper with the California Highway Patrol in the El Cajon office.