Practicing Law
Alumna Ayomide Shittu achieved her dream by getting a job in a top Houston law firm.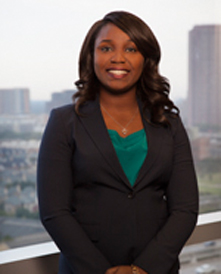 After graduating from law school in May, Alumna Ayomide Shittu landed her dream job at Thompson & Knight LLC, an international law firm with 11 offices worldwide.

The firm, which was established in 1887, was named Best Law Firm of the Year in Oil & Gas Law by U.S. News and World Report – Best Lawyers in 2015 and also was among the best law firms cited in the paper's national ranking from 2011-2013. Thompson & Knight has 330 attorneys and offices in Algiers, Austin, Dallas, Fort Worth, Houston, London, Los Angeles, Mexico City, Monterrey, New York and Paris. Shittu is an associate in bankruptcy and restructuring in Houston, working on creditor and debtor cases and Chapter 7 trustee proceedings.

"It has always been my dream and my goal since I was 13 years old," said Shittu. "This is the culmination of all my dreams and goals."

For Shittu, the journey to a top law firm in Texas started at Sam Houston State University (SHSU), where she said she "found her place in the world." She praised the administration and faculty for the many experiences she was given and for "pouring their efforts into me," especially Drs. Holly Miller, Mitchel Roth, and former faculty member Howard Henderson. Shittu graduated in 2011 magna cum laude.

"They really took a lot of interest in me and my success," said Shittu.

At SHSU, Shittu was very active on campus, taking on leadership roles in many student organizations and working as a campus tour guide for the Visitors Center, which allowed her continually to meet new people and develop her communication skills. In fact, a contact from a Diversity Leadership Conference at SHSU ultimately led her to the National Black Pre-Law Conference, where she met many lawyers, including the hiring attorney at Thompson & Knight. Last year, after doing summer work at the firm, she received a full-time offer to begin this September.

While a criminal justice major at SHSU, Shittu did an internship with State Rep. Eric Johnson because she wanted to find out how laws were made in the Texas Legislature. Rep. Johnson was also an attorney from a large practice in Dallas, and he wrote a letter of recommendation for her application to The University of Texas Law School in Austin. She also had an opportunity to make friends who were working in the legislature while attending UT Law.

While at UT, Shittu took full advantage of experiences offered, including serving as a legal intern for Judge Darlene Byrne of the 126th District Court and with Travis County Civil Courthouse in Austin. Judge Byrne handled the Child Protective Services case docket amongst other cases, while other judges handled a wide variety of cases that came through the courts. One memorable case for Shittu was an appeal of an administrative hearing where an attorney lost his license for failing to pay student loans.

Shittu also was active with the Texas International Law Journal and the National Black Law Students Association and served as the Vice President of the Austin Young Lawyer's Association – Student Chapter.

Shittu wants to tell students at Sam Houston State University that a career as a lawyer "is possible."

"I went to law school and through a lot of hard work and networking, I succeeded," said Shittu. "I would advise students to seek out a lot of knowledge and to take opportunities that are given to you. Take every opportunity and be open to new experiences."