Top Online Program
The College of Criminal Justice's online graduate program is ranked third in the nation by U.S. News & World Report.
The online graduate program in Criminal Justice at Sam Houston State University advanced to third best in the country in the latest U.S. News & World Report rankings.

In 2014, the College of Criminal Justice was invited to participate in the ranking process for Best Graduate Online Criminal Justice degree programs, and it placed fifth in the nation. The 2016 rankings are based on five categories, including student engagement; faculty credentials and training; student services and technology; admissions selectivity; and peer reputation.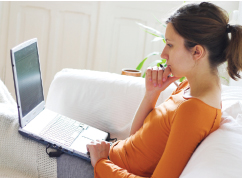 The CJ program earned its highest marks for faculty credentials and training, in student engagement, and in student services and technology. Faculty credentials and training indicate that online instructors mirror the academic credentials of campus-based programs, and resources are available to train faculty on how to teach distance learners. Student engagement promotes participation in courses with faculty and classmates and provides instructors that are accessible, responsive and supportive in completing degrees in a reasonable amount of time. Student services and technology offer greater flexibility to take classes from a distance through learning assistance, career guidance, and financial aid resources commensurate with campus-based programs.

"We are very proud that the quality of our online programs has been recognized by U.S. News & World Report," said Dr. Phillip Lyons, Dean of the College of Criminal Justice and Director of the Criminal Justice Center. "The rankings demonstrate that we can expand our reach significantly through our online courses without compromising the quality of our programs."

In 2016, U. S. New & World Report ranked 51 higher education institutes which offer online degrees in criminology, forensics or homeland security. Sam Houston State University offers the Master of Science in Criminal Justice, Criminal Justice Leadership and Management, Victim Services Management, and Homeland Security Studies online.

"We are continuously striving to be the best in the country in online graduate education," said Dr. Danielle Boisvert, Director of Criminal Justice and Criminology Graduate Programs. "For us, that means using the latest technology and practices in online education, and highly qualified faculty to provide quality education to students who are going to make a difference in the field of criminal justice."

In addition to advances in its Criminal Justice program, Sam Houston State University continues to earn high marks for its other online offerings. It ranks sixth for its Graduate Information Technology Program; in the top quarter of all universities for its online bachelor's degree programs; in the top third for its MBA program; and in the top eighth for online graduate programs overall.

"As always, we are pleased to support the university's outstanding faculty members who offer their courses online, and we salute them on achieving such high rankings from U.S. News & World Report for their quality online degree programs," said Bill Angrove, Associate Vice President for Distance Learning. "We look forward to continue working with SHSU faculty members over the coming year in their ongoing commitment to providing the best possible online learning experience for our students."

SHSU offers more than 40 fully online degree programs, including two doctoral programs, as well as 25 online certificate programs. For more information on any of SHSU's online programs, visit distance.shsu.edu.