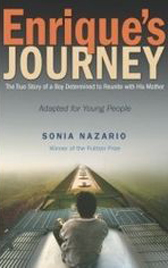 For Claudia Pasantes, this year's Common Reader – Enrique's Journey – hit home. Pasantes experienced her own journey from Mexico to the U.S., which led to a long separation from her father.

"If I could use just one word to define my journey up to this moment, it would be determination," Pasantes wrote in an award-winning essay. "I never asked to leave the land that birthed me; this was a decision my parents made, which I understand and appreciate now, because they wanted me to have the opportunities that they missed out on and to have a better life than the one my home country could offer me. They simply wanted me to seek a high level of education that would open many doors for me in terms of success and self-sufficiency."

Pasantes, a senior and Criminal Justice major with a minor in Spanish, recently won a campus-wide essay competition reflecting on the common reader, which included a $250 scholarship and a meeting with author Sonia Nazario and Lourdes Pineda, Enrique's mother. Like the main character in the book, Pasantes has dreams, but hers include going to law school or getting her master's degree to be a researcher to come up with solutions to immigration issues or the drug cartels that force families from their homes in Mexico.

"Claudia is a strong writer and her story is very inspirational," said Dr. Bill Wells, who has Pasantes in his Research Methods class. "I am certain she will have a positive impact regardless of the career path she chooses. She has already expressed an interest in conducting social science research on immigration-related issues."

Pasantes was born in a small town on the outskirts of Mexico City, walking three miles daily to her grandmother's house to get to a daycare so her mother could work. At about three years old, her father left Mexico for a job in the United States, leaving the family in their home country. The family would travels hours to see him for short, two-day visits. "…the happy child in me left when my father went to Texas," she wrote in her essay.

In 1998, the family was reunited in Texas, bearing just two suitcases and 500 Mexican pesos, the equivalent of $300. One suitcase bore her favorite toys and the stuffed bear a family friend gave her when she was born. The other suitcase held clothes for her mother and herself.

Left behind on the journey were maternal grandmother "Mama Themis," who told her bedtime stories and let her use watercolor pencils; Uncle Gerardo, who had a cat named Jensen and let her read his poetry books; and maternal grandparents, Manuel and Emma – a grandmother who cooked delicious food and a grandfather who carried her around on his shoulders.

In the U.S., Pasantes was enrolled in ESL classes, was bullied by her peers and belittled by a few teachers. Other teachers encouraged her to pursue her dreams. She became fluent in English, won a spelling bee in school, was selected for the National Junior Honor Society, made it to the All Region Symphonic Band playing the trombone, was named the Most Valuable Player in Varsity Girl's Tennis team and got high scores for painting and photography from the Visual Arts Scholastic Event art competition.

"My one goal in life has always been to make my parents and little brother proud," she said. "All of these awards plus my excellent grades and service to the community helped me gain the confidence to keep fighting."

Along the way, there were tough economic times in Texas too, forcing her father to relocate to Dallas to find work as an airplane mechanic without the family. There were disappointments too – her immigration status would prevent her from attending college. One day, after attending "College Day" in 11th grade, she came home to find three large envelopes containing permanent residency cards for her family that would allow her to enroll here at SHSU. She cried, knowing she would serve a higher purpose in life through her success.

Pasantes said she knew immigrants who were smuggled into the U.S. in a tire, who swam the chilly waters of the Rio Grande, and like Enrique, who rode the Beast, the train through Mexico. But for Pasantes, being an immigrant and bilingual have opened many doors.

"Legal or illegal, I believe we all have a common denominator: The American Dream, which is so appealing that people continuously risk their lives and leave their children behind for a long time to achieve it," she wrote.

Pasantes got to meet the author of the book who traveled Enrique's treacherous route between Mexico and the U.S. twice, as well as Enrique's mother, Lourdes Pineda, who left her family in Honduras to work in the U.S. Pasantes brought her own mother to the meeting, who instantly bonded with Pineda. Pasantes now sees her parents in a new light.

"I already knew everything that went on, but I never saw it to the extent that it happened," said Pasantes. "This is what happened to us. I realized all the sacrifices my mother and father had made for me since I was born."