National Internship
Junior Ivy-Marie Washington was awarded one of 12 Congressional internship to advocate for foster children in the nation's capital.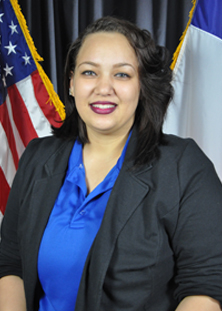 Ivy-Marie Washington grew up in the Texas foster care system, but she is far from a statistic. This summer, she is on her way to Washington, D.C. to tell members of Congress how they can improve the foster care system for other youth.

"I think being a foster child made me who I am today," said Washington, a bright and smiling junior at Sam Houston State University. "Foster care wants you to feel normal, but it makes it pretty hard to be normal."

Washington was one of 12 college students to be selected nationwide for the Foster Youth Internship Program by the Congressional Coalition on Adoption Institute. This summer, she will work hand-in-hand with national legislators and their staff on Capitol Hill to share firsthand experience in the foster care system and contribute to a policy report in an effort to reform practices for future children.

At the age of seven, Washington and her older brother were taken from an abusive home, where she endured jail stints and domestic violence between her parents. The two were placed with a foster mother, who also took in children with behavioral issues, such as ADHD and raging tempers. At 11 years old, her brother was caught with drugs and went to juvenile detention.

While in foster care, Washington wanted to do things like other kids in her class, but the system seemed to get in the way. If she was invited to go to a sleepover at a friend's house, the family had to undergo background checks. It was harder for her foster Mom to get permission to take her places, although she did get to go to Las Vegas and other activities.

"It was difficult; the laws made it difficult," said Washington. "Some measures are taken to protect the child, but you also want us to have a normal life."

Washington can help put a human face on the issue. Washington aged-out of the foster care system at 18, and she was on her own. With the help of the Preparation for Adult Living (PAL) Program in San Antonio, she enrolled in college at Sam Houston State University. She returns to the program to help mentor youth and to assist them to overcome their struggles in life.

There are nearly 400,000 children living in foster care in the U.S. with almost 24,000 aging out of the system annually without the emotional or financial support necessary to succeed. About 40 percent of these young adults wind up homeless, and 60 percent of young men are convicted of a crime. Half of the youth are involved in substance abuse, and 17 percent of young women are pregnant, according to the Congressional Coalition of Adoption Institute.
The Coalition helps to raise awareness about children without permanent families and tries to remove policies that hinder children from finding a loving and supportive home.

Washington was lucky because she only had one foster family. She is still in contact both with her foster mother as well as her biological mother. Most foster children average six homes during their youth, with stays of two to three years at each. Only 3 percent will receive a bachelor's degree, even though students are eligible for free college tuition.

Washington has made the most of her time at SHSU, joining the CJ Freshman Learning Community her first year, which helped her study and make friends. She also served as an Orientation Leader and now works in the First Year Learning Experience Office, as well as in Olive Garden as a server.

She hopes to pursue a career either as a crime scene investigator or as a juvenile parole or probation officer.
Her ultimate goal is to create an after-school program for youth so kids will have a place to go and an alternative to roaming the streets. She hopes to teach kids life lessons not taught in school, such as how to apply for a job or to balance a checkbook. As an animal lover, she also wants to incorporate the care of animals into her center.

"I feel like working with juveniles is where I want to be," said Washington.