Beto Lecture
Dr. John Paul Wright of the University of Cincinnati will discuss the role of ideology in crime and criminal justice on March 18.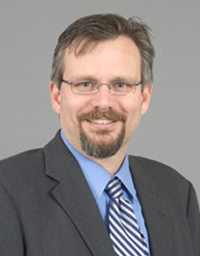 Beto Chair Lecture: Dr. John Paul Wright, University of Cincinnati
"The Crime Delusion: Ideology in the Study of Crime and Justice"
Fri, Mar 18, 2016
9:30 a.m.
Hazel B. Kerper Courtroom

Dr. John Paul Wright, a professor in the School of Criminal Justice at the University of Cincinnati, is a leading scholar in the field of biosocial criminology. His most recent book, Conservative Criminology: A Call to Restore Balance to the Social Sciences, encourages debate on the proper role of ideology in academics and public policy in the field.

Coauthored by Dr. Matt DeLisi, Conservative Criminology takes a unique view of crime and criminal justice issues through the conservative perspective. The book examines how liberal ideology affects the study of crime, criminals and the policies that criminologists advocate. The authors call for an investment in intellectual diversity, a respect for varying political philosophies, and a renewed commitment to honesty in scholarship.

Dr. Wright was rated as one of the most productive professors in criminology and was recently evaluated as one of the most cited criminologists in the United States. Publishing more than 130 articles, his work can be found in leading criminal justice, genetic, psychological, and psychiatric journals. He is also the co-author of several books, including Life-Course Criminality: Criminals in the Making; Handbook of Crime Correlates; Taking Stock: The Status of Criminological Theory -- Advances in Criminological Theory; Crimes of Privilege: Readings in White-Collar Crime; and Juvenile Justice.

Dr. Wright serves as Assistant Chair of the Criminal Justice Graduate Program at the University of Cincinnati, a Senior Research Fellow at the Center for Criminal Justice Research, and as a Fellow at the Arlitt Child and Family Development Research Center. He also serves as a Distinguished Adjunct Professor at King Abdulaziz University in Jedda, Saudi Arabia and taught at East Tennessee State University in the Department of Criminal Justice and Criminology.

Dr. Wright received his Ph.D. in Criminal Justice from the University of Cincinnati. He also received several teaching research awards from the school