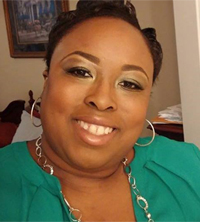 Senior Tonya McClinton took a positive step toward her future career during her internship this spring.

McClinton, who originally planned to become a forensic technician, decided to pursue a new path after an internship with Positive Steps, a residential treatment facility in Houston for teenaged girls referred by the courts, Child Protective Services, or juvenile probation. She hopes to get her master's or doctoral degree in counseling to help juveniles.

Positive Step helps girls from ages 14-18 who have problems in the areas of domestic violence, child abuse, drug and alcohol abuse, obsessive and compulsive disorders, or parenting. The facility provides individual and group counseling to help these young women make positive changes in their lives.

In addition to helping the facility with paperwork for attorneys, McClinton also was able to interact with the girls, who shared harrowing stories from their childhood. "I want to work with juveniles to see what I can do to help them," McClinton said.