Alumnus
Jeff Kernohan provides security planning for corporations across the globe.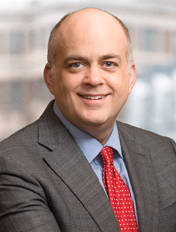 Following the terrorist attacks of Sept. 11, 2001, many American corporations began scrambling to find new ways to protect their employees and facilities from harm.
In the early days of homeland security, many companies turned to Kroll, a global leader in risk mitigation and response. Alumnus Jeff Kernohan, who was helping Kroll design security systems for federal buildings in Washington, D.C. at the time, was enlisted to develop security plans for clients as varied as sport and entertainment venues, educational institutions, and health care centers.

"We start at the very top, and we go to the very bottom, looking at technology, operations and planning to protect the people, the brand, intellectual property, and facilities," said Kernohan, who was recently promoted to Associate Managing Director, Security Risk Management, for the Midwest. "We look at anything that is vulnerable to penetration and develop policies and procedures to address them."

Kroll is designated by the Department of Homeland Security under the Homeland Safety Act, which promotes the development of new anti-terrorism technologies by offering legal liability protection to companies. Kroll specializes in identifying, remediating and monitoring risks for some of the top Fortune 500 companies. With 2,000 employees in 50 offices across the world, Kroll manages security, counter-terrorism, vulnerabilities, cybersecurity, post-breach investigations and executive protection.

Kernohan recommends that students interested in this field begin networking now by joining as many organizations as possible. He currently is a member of the Association of Threat Assessment Professionals and ASIS International. "A lot of this comes down to connections," Kernohan said.