Alumnus
Col. Richard Jordan USMC (Ret.) recently took on a new challenge at one of the largest ports in the world.
After 25 years in the U.S. Marine Corps (USMC), Richard Jordan retired to take on his next challenge – helping to shape the future of one of the largest ports in the United States.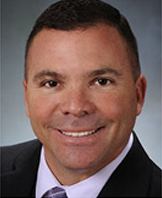 Colonel Jordan USMC (Ret.) is Chief of Staff for the Port of Long Beach in California, which supports 30,000 jobs and processes $180 billion in goods annually. He is helping to plan the short and long term future for the port by serving the five-member Board of Harbor Commissioners. His duties include planning, assisting with key decisions, overseeing communication and events for Commissioners, serving as a personal advisor, and integrating with the staff. Key skills that support his current duties include effective communication, problem solving, and leadership.

"We are planning what the Port will look like in 30-40 years," said Col Jordan. "As ship sizes change, you need a deeper port and higher cranes. We are developing strategies for the long-term for the port and land use. Right now, we are building a bridge that is designed to last 100 years."

Col. Jordan said he was attracted to the position because the Port of Long Beach has a Green Port Policy and helps drive jobs and the economy in Southern California. The Green Port Policy, adopted in 2005, is a comprehensive and coordinated approach to reduce the impact of the Port on wildlife, air, water, soil and sediments through community engagement and sustainable efforts.

As part of this economic engine , Col Jordan is looking forward to developing training and education programs at community colleges and building and trade commissions to set residents up for lucrative careers in the port.

Before joining the Port of Long Beach, Col Jordan served his country, with combat deployments as a helicopter pilot in Iraq and Afghanistan. From 2011 -2012, he was part of the team that looked for a non-kinetic resolution to tensions with Iran, and his last assignment was as Director of the Enlisted Professional Military Education, planning the full range of educational opportunities available in the Marine Corps from Lance Corporal to Sergeant Major.

"What a great opportunity that was to give back and take time and effort to recognize what the enlisted Marines do," said Col Jordan. His plan included getting Marines well on their way to an associate's degree after their first enlistment, and identify remaining requirements for a bachelor's degree when at 10-12 years of service.

During later stages of his tenure in the Marine Corps, Jordan specialized in policy and strategic planning. He was assigned to develop long-term strategies for the region encompassing Egypt, the Middle East, and Afghanistan, which was nicknamed "the troubled neighborhood." "It was meaningful and important work," said Jordan. "I had an impact on what our young men and women would face – or not face – for years to come."

Col. Jordan said Sam Houston State University helped him get his life on track after the death of his mother while he was in in high school and enabled him to build a sense of community,

"It was a formative time for me," said Jordan. "I had to grow up and grow up a little faster. I felt Sam Houston was the right size and the right place at the right time in my life. Beyond education, I developed a sense of community. It felt big enough to allow for fulfilling academic and social atmospheres so that I could participate, and it gave me a civic perspective as well. I cared about the institution, because I felt that institution cared about me."

For students at SHSU, Jordan has the same advice he shares with his Marines at every opportunity. He urged students and Marines alike to be lifelong learners, to continually gain more knowledge and experience, and to find a balance between practical and work experience and formal education.

"Develop your experience and your brain," said Jordan. "Find the right balance and time to maximize your education and get the most benefits from your work experience. Decide what is important to you and get on the path that leads to that choice. Always make decisions to allow you more options, instead of less options."