Community Engagement
Homeland Security students organized a Home Fire Safety Campaign, installing smoke detectors in low-income homes in Huntsville.
More than 100 smoke detectors were installed to protect families in low-income neighborhoods in Huntsville thanks to a volunteer effort by Bearkats coordinated by graduate students in the Master of Homeland Security program.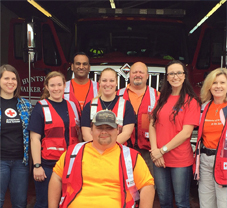 Students in a crisis management class worked with the American Red Cross, Huntsville Fire Department, United Way, and Sam Houston State University student groups to organize a Home Fire Safety Campaign aimed at reducing hazards from house fires. The campaign was a component of an Academic Community Engagement class where students learn pertinent academic material and apply the knowledge in a community setting through collaborative projects with community partners.

Graduate students were in charge of applying concepts of disaster resiliency through a two-level campaign. They first shadowed the Red Cross, and then organized their own campaign of fire safety education and smoke detector installation. Using canvassing and appointments, the Homeland Security students selected vulnerable neighborhoods in Huntsville and installed free smoke detectors in homes as well as provided fire safety tips for homes and wildfires. They also instructed families on how to maintain smoke detectors and distributed fire hats to children.

"It was super eye-opening," said Lauren Sanchez, a first-year Homeland Security graduate student who coordinated the effort. "Most of the people lived in trailers, and although they did not have a lot, they were the nicest people and welcomed us into their homes….As the event coordinator, I learned to trust people to perform their assigned responsibilities, and they exceeded my expectations."

One team of students even took the opportunity to celebrate a resident's 90th birthday during their visit.
On average, seven people a day die and 36 people suffer injuries during home fires. These fires cause an estimated $7 billion in damage every year, according to the Red Cross

"The cost for fire alarms is minimal, the labor is on a volunteer basis, and the overall bang-for-the-buck is one of the best charitable community events around," said Michael Huddle, another Homeland Security student. "Considering the cost-effectiveness of the program and the looks of gratitude on the homeowners' faces, it is a very worthwhile project to be involved with."

Graduate students exercised leadership and collaboration competencies as they branded and advertised their campaign and recruited a large pool of volunteers. They assembled 46 volunteers by soliciting assistance from Lambda Alpha Epsilon, SHSU Elite, Tri Sigma Sorority, Alpha Phi Sigma, Student Nursing Association, National Organization of Hispanics in Criminal Justice, Department of Residence Life, Delta Xi Nu Sorority, Emerging Leaders, Collegiate Hispanic and African American Mentoring Program, and Black Student Alliance. The student volunteers went door to door on Sunday, April 3 to educate residents and install smoke detectors. Because half of the households in Huntsville only spoke Spanish, the graduate students secured a large participation of Spanish speakers to build trust and communicate with families.

"The biggest takeaway from this campaign for me is the fact that I saw so much drive and desire from the student organizations involved to help the Huntsville communities that needed the smoke detectors," said Cary Allen, another Homeland Security student from the class. "I believe that some citizens who were helped now know that the students of Sam Houston State University have a strong desire to aid the Huntsville communities; the same goes for the Huntsville Fire Department."

The American Red Cross offered logistical support; the Huntsville Fire Department provided information materials in English and Spanish, hats for children, and an assessment of vulnerable areas, and the United Way supplied snacks and refreshments for volunteers.

"Future professionals in safety and security fields such as emergency management benefit enormously from contextualizing knowledge gained during the course of their studies," said Dr. Magdalena Denham, an Assistant Professor in the Department of Security Studies, who taught the class. "The best way to understand how non-governmental, public, and private organizations contribute to fostering of community resilience against natural and man-made hazards and threats is through observing those interactions and processes in action. But when you are the one who actually contributes to fostering of such relationships and processes as our students did, that is simply priceless."