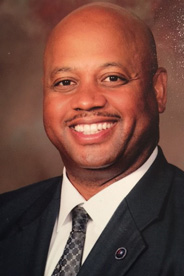 As a Criminal Investigator with the Harris County District Attorney's Office, Alumnus Paul B. Smithers' job is to organize and assist prosecutors with cases set for trial. The criminal investigator is a support staff member for the assigned prosecutor.

That means interviewing victims, assembling evidence, and finding witnesses to present the best case scenario to a jury – sometimes two years after the crime occurs.

"You review the entire case file, not to redo it, but to go back to make sure you have all the evidence that is needed to present to a jury," Smithers said. "We want to have a fair and objective outcome, so justice is served for not only the victims, but the offender."

Since joining the Harris County District Attorney's Office in 2009, Smithers has investigated everything from misdemeanor theft to capital murder cases. He currently is assigned to the Public Integrity Division, which handles allegations of criminal misconduct cases involving public officials. "We are similar to an Internal Affairs Division, but we are the Harris County District Attorney's Office," he said.

Smithers works with a wide variety of law enforcement agencies in Texas, including police departments, sheriff and constable offices, and school district police. Once an investigation is complete at these agencies, the case it sent to the District Attorney Office for prosecution. The case is assigned to a particular court. This is when the prosecutor and the criminal investigator work together to prepare the case for trial.

The Harris County District Attorney's Office has several divisions. The misdemeanor division handles such offenses as public intoxication, petty theft, trespassing, and simple assault. The felony division handles more serious cases, ranging from domestic violence to capital murder. Also, the District Attorney's Office has a Special Crimes Bureau that deals with major comprehensive crimes.

In one capital murder case, Smithers discovered a new witness who observed the murder from start to finish. The man was disinclined to testify because he still has to live in the community where the murder was committed. Smithers spent the next two weeks visiting the man daily to inspire him to testify in court. In the same case, four middle school students took the stand to point out the gunman in their neighborhood. "They were the four bravest little kids," Smithers said. "A lot of people in their community did not want to cooperate or deal with law enforcement."

Smithers credits the Leadership Command College and his Master of Science Degree in Criminal Justice and Leadership Management program, from Sam Houston State University, with helping him to develop his leadership and intervention skills with people. "These programs taught me how to be encouraging, empathetic and understanding to the needs of others," Smithers said.

Before joining the District Attorney's Office, Smithers worked for 16 years with the Houston Independent School District Police Department as a Campus Police Officer, Patrol Sergeant, Detective Sergeant and Special Response Team (SRT) member as well as a Lieutenant in Investigations and Internal Affairs. After reaching the rank of Lieutenant, he had achieved his goals with the department and decided to pursue new challenges at the District Attorney's Office.
For students interested in becoming criminal investigators, it generally requires several years of investigative experience as well as education, training, and a positive attitude.

"It is an enjoyable, interesting and demanding profession." Said Smithers. "The reward is when family members come up to you at the conclusion of the trial and say you have given them support and closure. You can see that the criminal justice system works."