Forensics and Law
Forensic science students got a lesson in providing testimony in the Hazel B. Kerper Courtroom.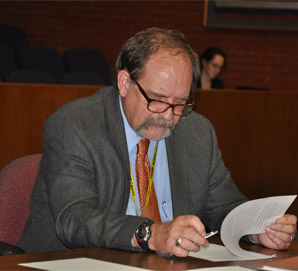 Forensic science students had the opportunity to testify in moot court about their expanding expertise in the field.

Dr. Sparks Veasey, a Forensic Science professor in the College of Criminal Justice, a former prosecutor and current forensic pathologist, put masters' student through the experience during an exercise in the courtroom at the Criminal Justice Center. Students studied crime lab reports in cases of a contested will with allegations of cyanide poisoning, a death in police custody, and others before taking the stand for realistic testimony.

"They have focused their education on science, but they know nothing about the court system," said Dr. Veasey, who teaches Law and Forensic Science. "Those who go and work for the Texas Department of Public Safety or forensic science labs will probably be in court within two years. It is a daunting experience. We provide scenarios and put them on the stand under pressure."

The course, Law and Forensic Science, provides an overview of the intersection of law and science. Students study the structure and hierarchy of the court system, legal concepts of admissibility of evidence and proof, rules of evidence, and expert testimony. At the end of the semester, students transform what they have learned in forensic science and apply it in the courtroom.

Dr. Veasey developed several cases based to some extent upon actual cases with relevant forensic and legal issue to test students on the witness stand. The cases included a contested will in which a beneficiary was charged with poisoning the deceased with cyanide, and wrongful death case involving a suspect who had drugs in his system and also was hogtied by police.

"I am not interested in getting them a grade," said Dr. Veasey. "I want to put them under as much pressure as I can so they can be better when it is for real. I want them to learn and to have the experience. They are scientists, and they are not interested in law, but they need to know it to testify in court."

Dr. Veasey grilled students about their educational backgrounds, payments for service, and facts presented in the reports. The students described the methods used to extract the sample, the equipment used to process the results, and the significance of the results. Dr. Veasey also cross examined the students about conflicting research or related studies on the topics at hand. Dr. Veasey stressed the need to be up-to-date on the research in the area and to know the case law to anticipate what the lawyer will ask and how the court may rule.

In addition, Dr. Veasey used mock jurors to provide feedback to students on the quality of the testimony and how well it could be understood by the general public.

Dr. Veasey provided students with important tips on how to be more effective as witnesses in court, including dressing professionally, looking at jury members, being objective, and avoiding laughter. "Laughter is the kiss of death," said Veasey. As a former medical examiner, he also cautioned students about false positives for some of their findings as well as practical tips that may provide clues in certain cases.

Dr. Veasey participates in a similar training for Ph.D. students in the forensic psychology program. After a semester learning and practicing forensic assessment in a 21-county area with Dr. Mary Alice Conroy, students in clinical psychology learn how to testify in court about their cases. Using real case studies from the field, students face prosecutors and defense attorneys in criminal hearings, such as competency to stand trial, sanity at the time of the offense, fitness to proceed, responsibility for conduct, waiver of juveniles to adult court, violence risk, or competence for execution.

"It a great experience, and it is a rite of passage," said Dr. Conroy.