Alumni News
Luke Scamardo ('15) achieved his dream of becoming a state trooper after graduating from DPS Academy..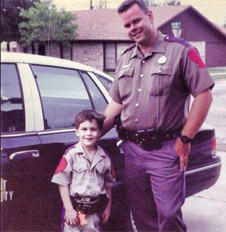 When he was five, Luke Anthony Scamardo Jr.'s grandmother sewed him a uniform that looked just like his uncle Chris Clark, a Department of Public Safety (DPS) trooper. He even sported a handmade utility belt with a pair of handcuffs donated by his mentor.

Twenty years later, Clark, now a Texas Ranger Lieutenant, pinned a badge on his nephew after he graduated from the DPS Academy. On July 9, Scamardo heads to his first assignment in Rio Grande along the Texas/Mexican border.
"I am looking forward to getting out on the road and putting my training to good use to help people," said Scamardo, now a strapping young man of 6'8", who towers over his uncle and his classmates.

The DPS and Texas Rangers have had a huge influence on Scamardo's life and guided his decision to join the state law enforcement agency. In addition to a lifelong mentorship by his uncle, Scamardo was one of the first recipients of the Texas Ranger Law Enforcement Scholarship at Sam Houston State University, which helped him pay for college for two years.

"He was one of the many reasons I wanted to go to DPS," said Scamardo of his uncle. "It was also just the professionalism all the troopers have and the integrity of the troopers. As citizens and officers, they are the best of the best. That's what I want to be."

Scamardo, who graduated in December 2015 with a bachelor's degree in Agriculture and a minor in Criminal Justice, completed six months in the DPS Academy on June 17. Each day would start at 4 a.m. with two hours of PT, followed by three months of classes on laws and procedures, a month of firearms and driving instruction, and two months of scenario-based training.

"It was an experience," said Scamardo, who put on 10 pounds of muscle mass during his training. "The most challenging part was PT. No matter what I did to prepare, it was on a whole other level. Ninety percent passed the PT test, and we are all very fit."

Scamardo said during his first three months at the academy, recruits would work from 4 a.m. to 10 p.m. when they were given an hour of free time before lights out at 11 p.m. While Scamardo said he developed good study habits at Sam Houston State University, learning the intricacies of criminal law were like "drinking water out of a fire hose."

After three months of studies, Scamardo received training on firearms and driving. Although he was a member of Trap and Skeet Team at SHSU, he still was not prepared for the level of training he would undergo. He also learned to drive a car "like you had never driven a car before."

His favorite part of the academy was the situational training, where recruits learned to handle scenarios that may arise in the field on a daily basis. Many of those trainings – along with PT – were done in full gear to prepare troopers for the reality of duty. "In the heat, we were running and doing pushups with an extra 30 pounds of stuff on," said Scamardo.

Scamardo will spend six months with a Field Training Officer in Hidalgo County and surrounding areas before he patrols on his own for six months. After a year of duty, he will be off probation. In the future, Scamardo has his sights set on the K-9 Unit.

"I grew up with dogs," said Scamardo. "My Sergeant at the academy was a K-9 officer, and we would train with the dog all day long. It made me fall in love with it more. The dog has a passion for what he does, and I do too. "