Internship
Justin Amundson spent his summer working side-by-side with Texas Game Wardens in Harris and Waller counties.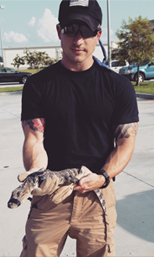 Over the summer, Justin Amundson worked side by side with Texas Game Wardens on land and water.

As an intern in the Texas Parks and Wildlife, South Houston – Law Enforcement office, Amundson joined the team that is responsible for the protection of the state's natural resources and the safety of the public in Harris and Waller counties. During the summer season, that meant patrolling the waters of Clear Lake for safe boating, especially during Memorial Day and the Fourth of July; patrolling Galveston Bay for fishing violations; or scouring the backwoods to find poachers taking deer. It is all in a day's – or night's work – with the game warden.

"It definitely was an experience, especially if you are used to being on land all the time – I came from Idaho," said Amundson. "I got to experience the salt water life."

Amundson spent much of his summer on the water, where the game warden would stop 20-50 boats a day in places like Baytown, Clear Lake, and Seabrook. "Most people assume that game wardens have to have probable cause, but they don't," he said. Texas Game Wardens are certified Marine Safety Enforcement Officers working under the guidelines set forth in Chapter 31 of the Parks and Wildlife Code.

The game wardens look for safety violations, such as a child without a flotation device or improper navigational lights, when selecting boats to inspect. If there is a fishing pole aboard, they will ask for fishing licenses and inspect the catch for fish taken out of season or over the limit. They keep a watchful eye for safety, including those boating while intoxicated or operating without sufficient personal flotation devices. Amundson also participated in stakeouts in the woods after poaching was reported in the community. In one particular case, the suspect threw the deer in the back of his truck while it was still alive.

Amundson was able to participate in all activities except making arrests or apprehensions, questioning suspects, or checking licenses. He provided assistance to Game Wardens as it was deemed necessary or requested.

As an avid participant in outdoor activities like hunting and fishing, Amundson wants to pursue a career as a game warden and is well on his way to fulfilling his dream. Amundson currently is moving through the hiring process toward a full-time position. This is a highly competitive process and he has progressed to the background investigation phase at this time.

"I'm thankful for the opportunities and would like to especially thank Lt. Kevin Malonson, Game Wardens Ross Sidman, Mark Bane, John Griffin, Jennifer Weaver and Vu Nguyen, Lead Office Clerk Aida Hinton, and the office staff for helping me pursue my dreams," said Amundson.

Amundson credits his military experience with helping him get job offers and completing his CJ degree in two years. Amundson was an infantry and combat veteran with the U.S. Marine Corps for three years and later worked as a firefighter and medic. After one of his buddies was killed in action, he moved to Centerville, Texas to take care of his friend's family. He enrolled in Sam Houston State University using the GI Bill and was able to transfer his Marine training courses for college credits, graduating in just two years.

"The Marines Corps gave me a good work ethic and taught me to be a good worker," said Amundson. "I have more experience, traveling around the world and working with people of many different backgrounds. Being able to work with people who are culturally diverse is a must on this job, and you've got to have a lot of work experience on your resume."