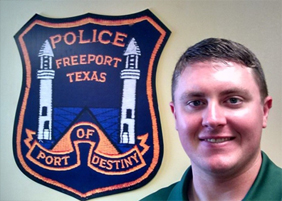 Senior Robert Parsley got an in-depth lesson in processing evidence during his internship with the Freeport Police Department.

During the summer, Parsley was tasked with reviewing old cases from remote storage sites after the Department consolidated its property and evidence room. His job was to help determine which cases reached the end of the statute of limitations and assist in the preparation of petitions to a judge to allow evidence to be destroyed.

"It has been a very valuable learning experience, not so much on law enforcement, but on police reports and how they are done," said Parsley. "You have to be aware of how critical it is to document everything and to keep track of any evidence in a case. One of the biggest reasons officers are fired is because they do not document their actions or properly handle evidence."

While the department has a current, onsite property and evidence room, which is kept under lock and key and only accessible by two employees, older cases were stored in off-site locations. Those sites were recently closed and consolidated into a 20-foot shipping container in the back parking lot of the police department.

"Those cases included everything from papers and police reports to pictures of people from the scene, clothing from victims, bullet casings, drug paraphernalia, and knives," said Parsley. "They involved everything from misdemeanor cases to murder cases."

There is a strict protocol that must be followed for destroying evidence. The case must have reached the end of its statute of limitations and affidavits must be filed by the property and evidence room manager and an officer from the case. The petition is sent to a judge for approval before any action is taken.

Parsley also participated in a few ride-alongs with Freeport police officers. Although he had to stay in the patrol car during traffic stops or calls, he was able to listen to exchanges from the officer's body camera. Among the cases he witnessed were traffic violations, minor car accidents, and a welfare check.

"It is interesting to see what officers do on the radio when they are not talking to suspects," said Parsley. "They are radioing in the location and reason for the stop, the license plate and whether there is insurance on the vehicle. After getting the driver's license, they radio back to dispatch to see if there are any open warrants."

Parsley's desk was located in the Criminal Investigation Division and although he was not a part of the investigation process with the detectives, he was able to watch the process unfold. He also toured other divisions in the department, including the jail.

"I saw a little bit of everything, but not a lot of anything," said Parsley.
Parsley said internships provide valuable experience.

"Find an internship and do it," said Parsley. "You will get experience from doing it, and it will set you up in the right direction. Before graduation, it lets you know whether you like the job or not."