Internship
Sierra Smith assisted with trainings and research during her internship at the Southeast Texas Applied Forensic Science Facility.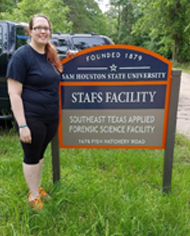 Sierra Smith spent her summer at the Southeast Texas Applied Forensic Facility (STAFS) working with the deceased to help teach the living.

Smith, who hopes to pursue her Ph.D. in biology or anthropology, served as an intern at STAFS, one of only six body farms in the U.S. for the study of forensic anthropology. Over the summer, she aided law enforcement officers and teachers in crime scene investigation training; recovered and prepared human remains for use in forensic classes; and conducted research for a study on sharp force trauma, which she hopes to present at the American Academy of Forensic Science meeting in February.

"This internship is great," said Smith. "I got hands-on experience that I could not have gotten in the classroom."
Smith attended her first class at STAFS in her sophomore year at Sam Houston State University and soon was hooked. She has taken many more courses from STAFS Director Dr. Joan Bytheway.

"At first, it is really overwhelming," said Smith. "There is a lot to learn. But I jumped in with both feet, and I love it."

Smith assisted in recovering human remains, which are used in forensic classes and trainings, from the research field after skeletonization. To do so, Smith thoroughly cleared the of site of all vegetation and collected and photographed the bones. The bones can provide unique information on individuals, such as age, sex, height and ancestry, and often display pathologies or anomalies that were not previously known.

"It has been great for me and expanded my knowledge about the body donation program," said Smith. "We have a large and diverse collection. It is great to see such diversity, and it is a great teaching tool. It is giving me hands-on experience. These are some of the things I may encounter in this field."

STAFS is a willed-body donation facility which conducts research that can be used by professionals in the field to help solve criminal cases and to develop the skills of future crime scene investigators. The facility teaches undergraduate and graduate students how to conduct quality research, and present and publish results which may impact the medical, scientific, and judicial communities. STAFS also participates in interdisciplinary studies, collaborating with other departments at Sam Houston State University as well as other higher education institutions such as Texas A & M and the University of Houston.

Because of her internship, Smith is expected to graduate from Sam Houston State University in the Fall in just five semesters. She plans to enroll in a Ph.D. program at Texas A & M.