Alumnus
Jeff Kernohan provides security planning for corporations across the globe.
The Order of the Sword and Shield inducted its second cohort of Security Studies students into the national honor society for those pursuing careers in the homeland security field.

A dozen graduate students joined the society during a special ceremony at the College of Criminal Justice on Nov. 3, which included a ritual of "knighting" the students with a sword while intoning the motto of the organization, "Out of Knowledge Comes Peace." The members of the organization at Sam Houston State University include Cary M. Allen, Ileana L. Bolaños, Gregory D. Carmona, Karen S. Castiblanco, Spencer A. Copeland, Jordan C. Davis, Erik F. Escobedo, Michael R. Huddle, Ashish K. Khemka, Jennifer V. Miranda, Ryan K. Quick, and Lauren J. Sanchez.

The Sword and Shield, also known as Omikron, Sigma, Sigma, is a national academic and professional honor society dedicated to the Homeland Security Enterprise, including those working or studying to work in homeland security, intelligence, emergency management, and protective services. To become a member students must complete 50% of the credits toward their graduate degree, maintain a 3.5 grade point average, and demonstrate leadership competence.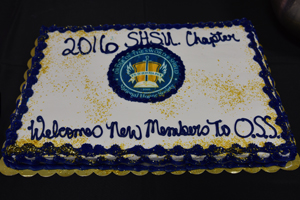 "You were selected to be inducted into this honor society because you have demonstrated that you are dedicated to knowledge, that you display integrity, that you understand the ethics that are going to be required of leaders in those professions and that you strive to bring peace and prosperity into your professional life," said Magdalena Denham, an Assistant Professor in the Department of Security Studies and Master of Ceremonies for the event.

The organization also elected its executive board, which includes President Copeland, Vice President Sanchez and Secretary Bolaños. Copeland said he hopes to set up an infrastructure that bridges past, present and future members of the organizations at SHSU as well as other departments with security functions on campus, such as the computer science program. This will help create a strong program and maintain the integrity of the degree, he said.